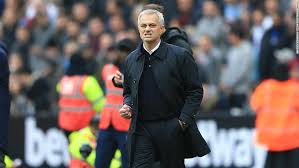 Tottenham boss Jose Mourinho does not think it is fair that the Premier League has told referees to alter their interpretation of the offside rule after the controversy surrounding Manchester City's opener against Aston Villa last week. When asked what he thought about the decision to change the referee's interpretation midway through the campaign,
Jose Mourinho said "I believe that now it's right and previously it was not right. But I don't think it's fair that you change a rule during the season."
Villa boss Dean Smith was charged £8,000 by the FA for his comments during the match but was pleased about the decision to review the law.
Jose Mourinho said "I don't think that law was ever designed to be interpreted as it was," Smith said. "You can't be seen to seek an advantage from an offside position and come and challenge for the ball. I'm pleased the interpretation of that law is being changed and rightly so."
When asked if he expected his fine to reversed, he added: "I don't think there is any chance of that!"