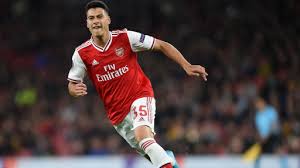 Liverpool manager Jurgen Klopp once said Arsenal wonderkid Gabriel Martinelli is "a talent of the century".
Jurgen Klopp said: "It was not in this game only. I watch a lot of football, so I saw the Europa League games of Arsenal. He's 18 years old, right? So our scouting department is all over the world and stuff like this, but I think Edu gets all the credit for that signing – he came from… wherever. He's really unbelievable. So young, looks so mature already, is a proper threat. Yeah, he looks like a really decent player. But I didn't want to put any backpack [pressure] on his back with this thing [his earlier remarks] but I just really like good football players and obviously he's a very good one."
The Brazilian teenager joined the Gunners from Ituano for £6m during the 2019 summer transfer window and impressed under three different head coaches throughout his first year in England.

Donate to Premier League Museum
Leaderboard
Leaderboard is empty