#PLHistory #premierleaguestories #PL #Premierleague – Remembering the first @premierleague weekend of @SkySports with #Cheerleaders ( Part 1 )
The attempt to bring a little US-style glitz and razzle-dazzle to the Premier League in 1992-1993 season had an awkward start. Yes, British domestic football had a major landscape change in the summer of 1992 when Sky sports  acquired rights to the birth of the Premier League, a deal which reshaped the entire structure of the British game.
Below is first of the many highlights of the opening day weekend which premier league fans should always remember.
Cheer-leaders were commented upon too creepily by old men – including Richard Keys and Andy Gray.
Sky Strikers, a group of cheerleaders were given unenviable task of entertaining the notoriously intimidating crowds with a half-time routine. The group somehow managed to last the entire first season of Sky's Monday Night Football, despite reactions which ranged from completely apathetic to downright hostile. But now in 2020 , it seems like they were just simply ahead of their time e.g. Crystal Palace assembled and continue to have their very own cheerleading squads – "The Crystals"
---
Premier League fans –  We would love to hear from you on the memories that you about English Premier League. Please fill out the form below and we would like to reach out to you and publish your "Premier League" moment to the world. 
---
[wpforms id="9187″]
---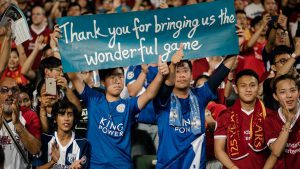 Tagged:
#CheerLeaders
#Media
#Trivia