#PLHistory #premierleaguestories #PL on April 9 1993 – #HowardKendall 's Everton #bluefamily to play first competitive match after 3 weeks, thanks to weird #fixtures setup
Everton was back from their 3-week Premier League sabbatical and was ready to fight the relegation scrap. After an enforced absence of 24 days from competitive action, they were ready to travel to ayersome park to meet a side fighting for survival.
Blues Boss Howard Kendall said "I heard a report that Middlesbrough rolled over and accepted defeat at Chelsea recently but I watch them play Arsenal this week and I can assure you they are not laying down and waiting for the inevitable. They are fighting and we are not safe yet. No one here will be allowed to think that we are safe until it is mathematically certain. The players are refreshed after the break we had a trip to Jersey where we played the friendly and then we had a practice match on Sunday and believe me it was a competitive practice match. But will only know after tomorrow whether the brake has done as any good or not."
---
Premier League fans –  We would love to hear from you on the memories that you about English Premier League. Please fill out the form below and we would like to reach out to you and publish your "Premier League" moment to the world. 
---
[wpforms id="9187″]
---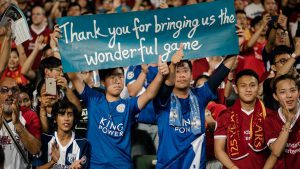 Tagged:
#Fixtures
1992-1993-Season
Everton-Club
Howard Kendall-Manager