#PLHistory #premierleaguestories #PL on May 3 1993 – #JoeRoyle warned, Manchester United #MUFC will rule the English game for a long time
Oldham had done a massive favour to Manchester United by beating Aston Villa and officially handing the title to the Red Devils. But their manager Joe Royle had voiced the fear of the rest of English football teams by claiming that if other clubs are not careful, Manchester United could dominate the English football for a long time to come.
Joe Royle said "Well done Fergie. You thoroughly deserved it, United are the best team in the league. If we are not careful, they will dominate the English game for a long time to come.
---
Premier League fans –  We would love to hear from you on the memories that you about English Premier League. Please fill out the form below and we would like to reach out to you and publish your "Premier League" moment to the world. 
---
[wpforms id="9187″]
---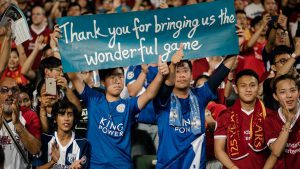 Tagged:
#ManagerInsight
#TitleRace
1992-1993-Season
Alex Ferguson-Manager
Aston Villa-Club
Joe Royle-Manager
Manchester United-Club
Oldham Athletic-Club