#PLHistory #premierleaguestories #PL on May 2 1993 – Childhood Liverpool #LFC Fan #NickHenry handed #PL to Manchester United #MUFC (and other #Matchday stories)
Aston Villa 0 – Oldham 1 – Childhood Liverpool Fan Nick Henry Handed Title to Manchester United
Self Confessed Liverpool fanatic Nick Henry's goal for Oldham officially ended Aston Villa's title hopes and gave Manchester United their first title in 26 years. He admitted later on that he was gutted about what his goal meant in the larger scheme of things.
Nick Henry said "I've got the goal that won the championship and I am not happy – I'm a Liverpool fan."
There was an air of resignation about Villa from the first minute and they did not look like a side that believed that they could win the premier league. And after the match, their manager admitted that.
Ron Atkinson said "I sensed something earlier this week and didn't do anything about it. I felt a number of our players thought the championship was beyond them and it showed today. But my congratulations go out to them (Manchester United), it gets the monkey off their back. I just hope Robbo (Bryan Robson) has played enough games to qualify for medal – that's what will please me most."
Chelsea 2 – Coventry City 1 – All three points to Blues thanks to Cascarino goal
Micky Quinn ended Coventry's away day goals famine with a stunning 25-yard lob but former Aston Villa striker Tony Cascarino had the last laugh in the game. Quinn embarrassed the Russian keeper Dmitri Kharin for Coventry's first goal away from home since February 4 to cancel out John Spencer's 14th-minute opener.
But Bobby Gould's side was caught napping by Cascarino when Darren Barnard provides a pinpoint assist for the winner. The win took Chelsea back into the top 10 in the table.
Crystal Palace 3 – Ipswich Town 1 – Thomas Goal Boosted Palace's survival chances
Geoff Thomas boosted Palace's survival bid after missing the home defeat by Manchester United following the death of his father. Ipswich was without their fullbacks Eddie Youds who was suspended for the match as well as Gavin Johnson who had a knee injury.
Steve Palmer was named in the 16 man squad after a four-month lay off via a thigh injury. Palace moved to 18th after the crucial win and was certain to beat the drop that season. Whereas Ipswich's hopes of finishing the season in the top half of the table practically ended after the defeat.
Nottingham Forest 0 – Sheffield United 2 – A tearful goodbye for Brian Clough as Forest got relegated
Brian Clough kissed a tearful goodbye to Nottingham Forest as his 18-year reign at the club came to a close with relegation from the premier division. Great waves of emotion greeted Clough as he emerged from the tunnel and when a girl fan handed him a single red rose the occasion got to him and the tears began.
But Sheffield United went ahead via Glynn Hodges and sealed the future of Nottingham Forest in the second division eight minutes to the team with the second goal via Brian Gayle. Ugly scenes were visible in the 86th minute after Brian Deane had pushed Nigel Clough to the floor.
But
Other Results that match day
Everton 0 Arsenal 0
Leeds United 1 Queens Park Rangers 1
Norwich City 1 Liverpool 0
Sheffield Wednesday 2 Middlesbrough 3
Southampton 0 Manchester City 1
Tottenham Hotspur 1 Wimbledon 1

---
Premier League fans –  We would love to hear from you on the memories that you about English Premier League. Please fill out the form below and we would like to reach out to you and publish your "Premier League" moment to the world. 
---
[wpforms id="9187″]
---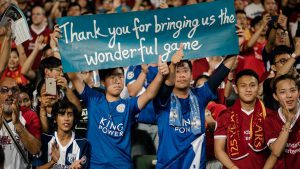 Tagged:
#MatchDay
1992-1993-Season
Arsenal-Club
Aston Villa-Club
Bobby Gould-Manager
Bryan-Robson-Player
Chelsea-Club
Chris-Bart-Williams-Player
Coventry City-Club
Crystal Palace-Club
Darren-Barnard-Player
David-McGoldrick-Player
Ipswich Town-Club
Jamie-Pollock-Player
Leeds United-Club
Les-Ferdinand-Player
Liverpool-Club
Micky-Quinn-Player
Nick-Henry-Player
Norwich City-Club
Nottingham Forest-Club
Oldham Athletic-Club
Queens Park Rangers-Club
Ron Atkinson-Manager
Sheffield United-Club
Sheffield Wednesday-Club
Steve-Palmer-Player
Tony-Cascarino-Player
Tottenham Hotspur-Club
Willie-Falconer-Player
Wimbledon-Club