#PLHistory #premierleaguestories #PL on May 06 1993 – Latics win a do or die clash between Oldham and #GraemeSouness Liverpool #LFC (and other #Matchday stories)
Oldham 3 – Liverpool 2 – Latics win a do or die clash between Oldham and Graeme Souness
On a nerve-wracking night where Oldham's premier league future and Graeme Souness's managerial position at Liverpool was on stake, the Latics prevailed in a trilling game where two Ian Rush goals were not enough to save the Reds. David James' errors and Don Hutchison's red card made it a miserable night for Souness as his side produced an indiscipline display.
Played on a sandy surface made slipper by the pre-match sprinkling, Oldham hustled and harried their opponents in an ill-tempered clash. A goal from Beckford and a brace for Olney was enough to ensure that Oldham's fight for survival went on for another week.
Joe Royle said "It's a one game season now, isn't it. Its all down to Saturday and another exciting one at Boundary park but we still need another team to help us – but you never know. It is no foregone conclusion that we will beat Southampton but if we have one of our days, we might just do it."
Tottenham Hotspur 1 – Blackburn Rovers 2 – Euro Boost for Blackburn after important away win at White Hart Lane
Blackburn Rovers gave themselves a huge boost in their pursuit to make it to Europe after the snatched a huge win at White Hart Lane. Now they needed to beat Sheffield Wednesday in their final game and would hope for two more combinations to go their way. Norwich had to lose against Middlesbrough and hope that Arsenal would win the FA cup so that Rovers would squeeze in.
Kenny Dalglish said "I don't know anything about that. The main thing is for us to keep winning and everything will fall in place. We have had a magnificent season and given the town a side to be proud of. The attitude and approach of my players has got them where they are."
Mike Newell took his goal tally for the season to 21 with strikes in the 23rd and 55th minutes before Darren Anderton nudged in an 87th-minute consolation. The London club twice struck the woodwork but Blackburn survived the pressure to secure all three points.
---
Premier League fans –  We would love to hear from you on the memories that you about English Premier League. Please fill out the form below and we would like to reach out to you and publish your "Premier League" moment to the world. 
---
[wpforms id="9187″]
---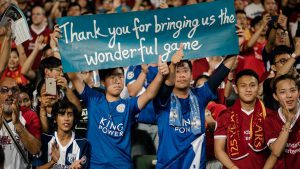 Tagged:
#MatchDay
#RelegationBattle
1992-1993-Season
Graeme Souness-Manager
Ian-Rush-Player
Joe Royle-Manager
Kenny Dalglish-Manager
Liverpool-Club
Mike-Newell-Player
Nottingham Forest-Club
Oldham Athletic-Club
Tottenham Hotspur-Club