#PLHistory #premierleaguestories #PL on May 05 1993 – #NigelClough warned off a Nottingham Forest exodus
Even before the dust of two of the biggest names at Nottingham Forest had not settled down, Nigel Clough said that he feared that a huge exodus at Forest was impending post the relegation. Brian Clough had already stepped down as the club manager after 18 years at the helm and star midfielder Roy Keane was likely to leave for greener pastures soon.
Nigel Clough said "I would find it very difficult with or for people who made certain accusations. It's a point of principle and an issue which has upset me and my family. And I am not alone in the boat, there are many others who feel the same."
There were fractions within the club where director Chris Wooton had allegedly smeared Brian Clough's image and forced him to leave, causing unrest in the squad.
Brian Clough said, "If Wooton stays, my son, will leave."
---
Premier League fans –  We would love to hear from you on the memories that you about English Premier League. Please fill out the form below and we would like to reach out to you and publish your "Premier League" moment to the world. 
---
[wpforms id="9187″]
---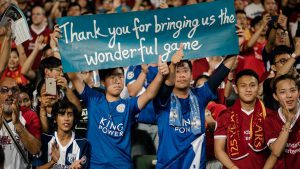 Tagged:
#ClubOwners
#Retirement
1992-1993-Season
Brian Clough-Manager
Nigel-Clough-Player
Nottingham Forest-Club
Roy-Keane-Player