#PLHistory #premierleaguestories #PL on April 29 1993 – One-year extension for 37-year-old #KevinMoran of Blackburn
Kevin Moran was set to extend his playing career with Blackburn Rovers right up to the world cup finals in 1994. Moran who turned 37 that very day, had negotiated a new one year contract at Ewood Park after convincing Kenny Dalglish he had a role to play in Blackburn's plans for next season. The club skipper confirmed the news of the extension himself and gave an update on his hamstring injury.
Kevin Moran said "Things have been worked out. You can take it that I will be staying on at Blackburn next season. Even if the worst comes to the worst and I miss Monday, there is still a lot of football left in me for the next month or so and hopefully next season as well. I hope to be back for the other two premier league games of the season and then there are world cup games to come."
---
Premier League fans –  We would love to hear from you on the memories that you about English Premier League. Please fill out the form below and we would like to reach out to you and publish your "Premier League" moment to the world. 
---
[wpforms id="9187″]
---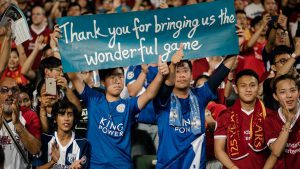 Tagged:
#ContractRenewal
1992-1993-Season
Blackburn Rovers-Club
Kevin-Moran-Player