#PLHistory #premierleaguestories #PL on April 29 1993 – Its not over said Aston Villa #AVFC boss #RonAtkinson who still had some hope of competing for the title
Ron Atkinson delivered a defiant blast at cynics who had claimed that Villa's chances of the premiership had gone. The Aston Villa manager believed that his team would be within a point of league leaders Manchester United after beating Oldham that weekend. And he had a gut feeling that United would slip up against Blackburn Rovers at Old Trafford the following day.
Ron Atkinson said "United have won five on the bounce, which is a marvelous run. But you just wonder if they can make it six or seven. What we have to do is to go flat out against Oldham on Sunday, and put pressure on United. There have been a few twists and turns in the title race, and I still believe it can go to a last day situation."
---
Premier League fans –  We would love to hear from you on the memories that you about English Premier League. Please fill out the form below and we would like to reach out to you and publish your "Premier League" moment to the world. 
---
[wpforms id="9187″]
---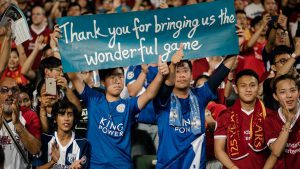 Tagged:
#TitleRace
1992-1993-Season
Aston Villa-Club
Manchester United-Club
Ron Atkinson-Manager