#PLHistory #premierleaguestories #PL on April 20 1993 – No players will leave even if we are relegated insisted #LennieLawrence of Middlesborough
Lennie Lawrence had revised his plans for a summer clear out on Teeside. The middlesborough boss was expecting little change to the Ayresome park stuff even if the club was relegated to division one. Boro were bottom of the table and must beat Tottenham Hotspur to retain slight hope of staying the premier league.
Lennie Lawrence said "None of our players have indicated that they want to leave and considering the circumstances, its unlikely that many will. We have to sell first before we can buy if we go down, so the only changes which will be made will come about if anybody shows interest in any of our players. We have to offer them new contract by the middle of May or else some of them will become free agents. And that is something that won't be happening."
---
Premier League fans –  We would love to hear from you on the memories that you about English Premier League. Please fill out the form below and we would like to reach out to you and publish your "Premier League" moment to the world. 
---
[wpforms id="9187″]
---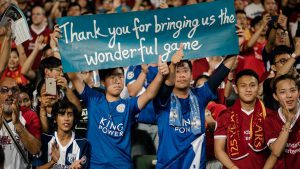 Tagged:
#RelegationBattle
#Transfers
1992-1993-Season
Lennie Lawrence-Manager
Middlesbrough-Club