#PLHistory #premierleaguestories #PL on April 16 1993 – Former Red & #GraemeSouness teammate #PhilNeal ready to add to Liverpool #LFC misery
Phil Neal was set to return to Anfield as a Coventry player and was keen to add more woes to his former teammate Graeme Souness. The Ex England defender made 453 appearances for the Reds in Liverpool's glory days and won eight championship medals. But Souness' Liverpool had a below par season that year and Neal had already beaten his ex team 5-1 at Highfield Road in December.
Now he was set to go back to Anfield and was hoping to add more misery to his former club and team mate. Another former Scoucer going back to Liverpool was Mick Quinn whose red card against Manchester United was overturned and he was delighted on that.
Mick Quinn said "I'd like to thank the referee for admitting his mistake. But my innocent was never in doubt, I believe I was sent off as a result of Peter Schmeichel falling over."
---
Premier League fans –  We would love to hear from you on the memories that you about English Premier League. Please fill out the form below and we would like to reach out to you and publish your "Premier League" moment to the world. 
---
[wpforms id="9187″]
---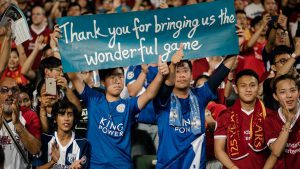 Tagged:
Coventry City-Club
Graeme Souness-Manager
Liverpool-Club
Micky-Quinn-Player
Phil Neal-Manager