#PLHistory #premierleaguestories #PL on April 12 1993 – #IanRush goal sank Oldham against Liverpool #LFC (and other #matchday stories)
Liverpool 1 Oldham 0 – Ian Rush Goal Sinked Oldham
Ian Rush's 17th goal of the season gave Liverpool a win at Anfield and left Oldham in deep relegation trouble. Liverpool dominated the match and had multiple chances to take the lead.
After 60 minutes, however, they broke the deadlock with a great goal from Rush. Mcmanaman played the ball to the Welshman who raced down the right to cut inside and released a rising shot from the edge of the area into the top corner. Liverpool continued to dominate and old him open down as the home side created many chances. Rush was the night buy blue goal-line clearance in the closing minutes
QPR 4 Nottingham Forest 3 – Brian Clough's Forest Looked Doomed
A brilliant hat trick from England striker Les Ferdinand gave QPR a dramatic win in a seven goal thriller at Loftus road. It also virtually made it impossible for Nottingham Forest to avoid relegation.
A blunder by QPR captain Ray Wilkins allowed Forest an early goal and they should have been two nil up just a few minutes later. But two goals in six minutes just before the half time got the London side back in the match. Just after the half time, Roy Keane provided a brilliant assist for Forest to equalize and five minutes later they regained the lead as well.
But once against they conceded two goals in less then five minutes for Rangers to go ahead and claim all three points from the match.
Leeds United 5 Blackburn Rovers 2 – Gordon Strachan Sunk Rovers
Gordon Strachan ended his six month scoring famine in spectacular style with a hat trick in 50 minutes to dent Blackburn's hopes of qualifying for Europe. Strachan deputizing as Leeds penalty taker and captain for the injured. Gary McAllister, scored twice from the spot in the first 26 minutes and completed his hat trick with a 15 yard strike.
Strachan then created Leeds' fourth for Rod Wallace and although Blackburn staged a spirited recovery with two goals from Kevin Gallacher and Mark Atkins, Lee chapman celebrated his recall to the side with Leeds' fifth goal just before the end.
Midlesborough 1 Everton 2 – Everton finally safe from relegation
Strugglers Middlesborough suffered a double blow as they crashed to another defeat and had skipper Alan Kernaghan sent off for a professional foul. The Republic of Ireland international central defender faced a ban after bringing down Tony Cottee in the second half.
Everton were finally safe from relegation after picking up their seventh away win of the season and they clinched it via substitute. Middlesborough were certainly looking like going down after the result.Dave Watson put Everton ahead in the first half and it took them going down to 10 men to pick up their game.
They scored in the 64th minute to bring the match to level before Preki put the dagger through Boro hearts to win it for the toffees.
---
Premier League fans –  We would love to hear from you on the memories that you about English Premier League. Please fill out the form below and we would like to reach out to you and publish your "Premier League" moment to the world. 
---
[wpforms id="9187″]
---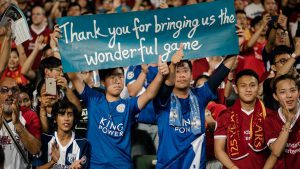 Tagged:
#MatchDay
#RelegationBattle
1992-1993-Season
Alan-Kernaghan-Player
Blackburn Rovers-Club
Brian Clough-Manager
Everton-Club
Gary-McAllister-Player
Gordon-Strachan-Player
Ian-Rush-Player
Kevin-Gallacher-Player
Lee-Chapman-Player
Leeds United-Club
Les-Ferdinand-Player
Liverpool-Club
Mark-Atkins-Player
Middlesbrough-Club
Oldham Athletic-Club
Queens Park Rangers-Club
Ray-Wilkins-Player
Rod-Wallace-Player
Roy-Keane-Player
Tony-Cottee-Player