Record breakers in any sport often steal the spotlight. When Usain Bolt clocked 9.58 seconds in the 100 m race, the world went crazy. When Michael Schumacher won five consecutive F1 Championships, the media went into frenzy and labeled him as the greatest driver of all time. When Manchester United won the treble in 1999, the world lauded the feat achieved by Sir Alex Ferguson's men. However, there are quite a few record breakers whose gigantic achievements didn't attract the Kim Kardashian level of attention. 
When Gareth Barry stepped onto the field on 25th September 2017 in West Bromwich Albion's game against Arsenal, the midfielder broke Ryan Giggs' record of 632 appearances in the Premier League. Gareth Barry did receive numerous applauses from the legends of the game but his striking feat wasn't a major headliner in media and on Twitter. This proves the fact that history isn't always made by the trendy and the stylish.
The Premier League's global presence makes it look like a glamorous party filled with superstars and enigmatic personalities but the league is also graced by players like Gareth Barry who do their job and surpass their colleagues in silence while the others are busy walking on the bridge of limelight. Barry has had a gargantuan footprint on the League that won't be forgotten for years. From Aston Villa to Manchester City to Everton to finally playing for West Brom, the Englishman has served up to be a rightful epitome of the Premier League heritage. Let's take a look back at the magnificent career of Premier League's marathon man.
---
Where it all began…
After spending seven years in the Brighton and Hove Albion youth academy set up, Gareth Barry joined Aston Villa as a trainee in 1997. Now the Aston Villa of today may be seen as a club lingering in relegation but the Villa of late 1990's was a titanic force in the league. So, for Barry it was a major career upgrade when he joined the Villians in 1997. When Barry joined Villa he was essentially made to train as a central defender even though he played as a central midfielder until now. For a 16 year old to change his position and learn the new art is a challenging task, nonetheless, Gareth Barry like a smart student educated himself in the new role. So, now he could not only play as a central midfielder but also as a centre half and this quality would prove to be hugely beneficial in the future.
Gareth Barry said "At school, I was always a central midfielder from a young age. Then, when I joined Villa at 16, the pre-season didn't go too well, so they looked at me as a centre-half."
His Aston Villa debut came on May 2nd, 1998 against Sheffield Wednesday. He only made one more appearance that term but continued his climb up in the ranks. The 1998-99 season saw him make 32 appearances switching diligently between centre back and midfield as per the demand of the situation. On April 24, 1999, Barry scored his first Villa goal, finishing Steve Stones' cross and continuing Villa's revival. Barry was an omnipresent name in the defence of the Aston Villa managed to win the 2001 Intertoto Cup.
Gareth Barry said "I used to say I preferred midfield because I enjoy trying to make goals, and scoring is a buzz."
From time to time, Barry made his feeling known how much he enjoyed playing in midfield than any other part of the field. Yet, he continued to play a major role in the centre of the defense as asked by then manager John Gregory. News came out in 2001 that Gareth Barry seemed frustrated with the central defender role and Aston had to reject all the offers for the defender. Slowly and gently, Gareth Barry started to become a household name in Aston Villa while racking up impressive performances. He did manage to reach the heart of Aston Villa that is the midfield but via left back and left midfield.
---
A Legendary Career…
The 2002-03 season saw Villians narrowly escape relegation by just three points. A managerial change saw Aston Villa not only retain their status as a top team but David O'Leary also realized the impact that Gareth Barry could have in the central midfield. There was no looking back for Barry from there as he established himself as one of the most important pieces in the Aston Villa midfield. In 2006-07 Martin O'Neill replaced O'Leary. O'Neill came with a dream of creating a masterpiece on the blank canvas of Aston Villa and he chose Barry to be his paint brush. Despite being a central midfielder, Barry blossomed under the new boss and ended up as joint top scorer in the team with 10 goals.
Gareth Barry said "Martin O'Neill has definitely got the best out of me. It was Martin O'Neill who said, 'You're a central midfielder.' He put faith into players. He was very clever at getting into players' heads, leaving little remarks to make me believe more. The players at Villa all moved up another level under him." 
In 2007, as a tribute to Barry's selfless 10 years at Villa, the club decided to have a Gareth Barry testimonial match despite the Englishman being only 26. While this looked to be controversial, it was rightly deserved for a player who selflessly dedicated himself to making Aston Villa a dominant force in the Premier League. In October 2007, Barry broke one of many records, becoming the youngest player to clock 300 Premier League appearances.
Then came the turbulent summer of 2008 that made Villa fans whine and Liverpool fans imagine themselves in dreamland. At this moment one could debate that Barry was in his prime and easily one of the top midfielders based on dedication, reliability and simply doing what he was asked to do. Liverpool saw the six feet midfielder and chased him like a cheetah chasing its prey. While a faction of Reds supporters were unhappy because he was considered to be no match to Xabi Alonso, then Reds manager Rafael Benitez was determined to make a move. However, Liverpool saw a series of bids rejected in 2008 summer which didn't go down too well with Barry.
Gareth Barry said "My mind's made up, I want to join Liverpool. There's no going back, it's time for me to move on. I'm desperate to play Champions League football and that's why I have to leave Villa."
Imagine a relationship where the couple has been together for years but problems start to kick in and trust issues arise. The couple try to forcibly remain together just because of the longevity of the relationship. This was exactly the case between Barry and Aston Villa. With this comment of his, the loyalty factor came crashing down like NASDAQ during the 2008 depression and the cult hero turned into an unwanted sidekick. Innumerable attempts to repair the relationship would go in vain because the Villa fans' heart had walked away and damage had already been done. His actions didn't go well with the club hierarchy either, as they stripped Barry from captaincy and dismissed him from training with the team. The courtship carried on for the 2008-09 season but there was no love in it. Barry did make 48 appearances in that season but his heart was set elsewhere. Finally, in June 2009 after 441 Aston Villa appearances, Gareth Barry joined Manchester City for £12 million. Villa fans were unhappy and criticized the Englishman for choosing a bigger monetary package even if it meant spending time on the bench. However, for Barry his vision was to play in the Champions League, something he could never achieve at Villa despite repeated efforts.
Gareth Barry said "I played a lot of games for Villa, and one of my regrets is not winning a trophy there – that still hurts, and that's why the big games are important."
He also wrote a heartfelt letter to Villa fans, thanking them for their extended support throughout his Villa days. The midfielder made his Manchester City debut against Blackburn Rovers on 15th August 2009. Barry's first goal in the City shirt was against neighbours and arch rivals Manchester United. The first season quickly overshadowed the initial questions of Barry being just a squad player as he made 34 League appearances, solidifying his place in the starting line up. Upon Roberto Mancini's arrival in December 2009 at Etihad, one could predict that wind started to sail in Manchester City's favour and the Citizens were onto something big. While Barry wasn't the chief engineer behind their astronomical rise, he was a key cog in the system.
The 2010-11 season was the beginning of Manchester City's tremendous rise in English Football, as they managed to win their first ever FA Cup. Barry started in central midfield in the final against Stoke City and won his first City trophy. It was business as usual in the league for the Englishman, making 33 appearances for Citizens. His dream of playing in the Champions League finally became a reality on September 14, 2011 when he featured against Napoli. Ask any City fan to describe the 2011-12 season means to them and they will reply with just one word: 'Agueroooooooo'. Barry once again mounted impressive performances in City's league title winning campaign, managing 34 appearances. While the likes of Sergio Aguero, David Silva, Yaya Toure and Tevez stole the spotlight, the 30 year old once again was an unsung warrior. The 2012-13 season was a storm for the Citizens. While the club continued to elevate their performances on the pitch, locker room clashes began between then manager Roberto Mancini and superstars Carlos Tevez, Yaya Toure and other rebellions. Barry despite being a senior was overlooked and a sense of feeling of 'you are not needed now' had kicked into Barry's minds.
Gareth Barry said "I had a good feeling about it, the lure of being part of a team that could win trophies. It turned out to be a good choice although at the time no one was sure it was going to happen."
Barry sat down to reflect upon his time at Manchester City and was happy to have made a choice to go to City than join any other team. Finally, on September 2, 2013, Gareth Barry managed to get out of the Etihad and join Everton on a season long loan deal. For Barry this wasn't a step down but an opportunity to lead an Everton side that was tailor made to be a top team in the Premier League.
Gareth Barry said "Everton fans don't just come to watch the football. They are there for Everton, the club. They really believe in the history of the club."
This statement of his really helped him gel with the fans at Goodison Park and soon the Everton faithful started to see him as a leader who could deliver some delightful memories. The 32 year old made his debut against Chelsea which ended in 1-0 win to the Toffees and Barry collecting the man of the match award.The switch to Everton did bring him good fortunes as he recorded his 500th appearance in the Premier League in late September. Roberto Martinez trusted Barry with anchoring the midfield and the Englishman didn't disappoint. The Englishman was adamant to help the club reach Europe and he didn't want to be handed the European Football like a free lunch ticket, he was ready to put everything on the line to achieve it. Finally, the efforts came to fruition as the Toffees secured 5th place and Europa league football with 72 points.
The contract with Manchester City expired and Barry signed a three year permanent deal with the Merseysiders. In his second season, things were a bit shaky as Everton managed only a 11th spot in the table but nonetheless, Barry was still at the heart of the midfield. In 2014-15 season, Barry most certainly played the best game of his Everton career and it was against his old club Manchester City in the first leg of the League cup semifinal. Martinez described him as "one of the best English players" and even though one may think the Spaniard exaggerated a bit, Barry was truly one of the greats. When the former Aston Villa man stepped out against Sunderland in May 2016, he set the record for most Premier League starts at 572 starts. Later that year Barry would go onto become the third player after Ryan Giggs and Frank Lampard to play in 600 Premier League games and to commemorate this momentous occasion, the Englishman also scored in the game against Middlesbrough.
At 34, Barry arrived at a crossroad of choosing to stay at Everton and being a bits and pieces player under Ronald Koeman who was aiming to have fresher and younger players or to go to a lower team and show the light to the emerging players. The midfielder also had the choice to choose the path that was in fashion those days, to go to the MLS and spend the last legs of the career comfortably while pocketing wages and living in the lavish mansions of America. Barry did the most Barry-esque thing and rejected a move to a foreign country and joined West Bromwich Albion in the summer of 2017.
Gareth Barry said "While I could still play in the Premier League, I really did not want to go abroad. I was not thinking about winding down my career."
His hunger to continue in the Premier League landed him at West Brom. The red carpets had been rolled, the musicians had arrived. On 25th September 2017, when Barry walked out as an away team captain at Emirates, he etched his names in the history books surpassing Ryan Giggs' 632 appearances. Even though Tony Pulis' side lost 2-0, that day wasn't about the loss or win, that day belonged to Barry. The midfielder would go onto make 653 Premier League appearances before the Baggies were relegated at the end of the 2017-18 season. Since then Barry till date remains at the Hawthorns and after a long wait of three seasons could once again get a chance to extend his appearances tally as West Brom gained promotion back to English Premier League.
Gareth Barry said "No one has said, 'What are you doing still playing?' Everyone said, 'Play as long as possible.' You stop when you stop enjoying it, and I'll know when I've had enough and can't keep up with the boys."
---
What was Gareth Barry, the footballer like…
Gullible. That is the word that comes to our minds when we think of Gareth Barry. This piece has provided enough instances on how much Gareth Barry loved playing in the central midfield. However, the road to being a central midfielder wasn't simple, it passed via checkpoints of being a central defender to left back to left sided midfielder. This speaks volumes about the Englishman's unflashy adaptability.
His extraordinary ability to remodel his mindset to adjust to various styles of football facilitated him in gaining massive advantage over his counter parts. That is the reason why we saw Barry not only excel in Manchester City's expansive attack minded style but also garner praises while playing Pulisball, two polar opposite styles and tactics.
Gareth Barry was picked by every manager he played for. The Englishman was picked by purists as well as the pragmatists, playing him in most of the possible formations: 3-5-2, 4-3-3, 4-2-3-1, 4-4-2, 3-4-3. Despite all this he has often lived below the radar. Highly underrated, never compared in the same league with the likes of Xabi Alonso or Michael Carrick.
Gareth Barry represents the smaller faction of Premier League players, not new, faddish , not attention-grabbing but perhaps reassuringly reliable, old school carrying a set of professional values on the field like a little kid carrying his tiffin box to the school. In many ways you can term him anti Premier League but the reality is that this breed of footballers are diminishing day by day but in hindsight they need to be preserved.
---
What are the moments we remember Gareth Barry for…
Mr. Villa
Despite a controversial end to their association, Gareth Barry is till date called Mr. Villa for sticking with the club for 11 years. Managers came and went, but Barry continued to be the heartbeat of Villa. During his stay at Villa Park he matured into an adept player amassing 428 appearances all competitions, wearing captain's armband, doing kind gestures for the Aston community and establishing himself as a fan favorite.
Liverpool or Man City
Gareth Barry "I met the City manager Mark Hughes in a hotel. He emphasised the ambition of the owners. He described it as a speeding train and his advice was to jump on. I also spoke to Rafa Benitez at Liverpool, but he didn't completely convince me. He said he wanted me to come in, play left-back, left-midfield, centre midfield. That's what I'd done at Villa, it wasn't for me anymore."
In summer 2009, Barry was again split into choosing Liverpool or Manchester City. Eventually, this move would go onto shape his career in a particular way. Had he been at Liverpool, he may not be a first team regular and may not even have broken Ryan Giggs' 632 appearances record. Eventually his Man City career panned out well and he also became a respected player among the fans as well as the club management.
The hunger for Champions League football fulfilled
Gareth Barry left Villa with one dream, to play in the Champions League. Every player in modern football dreams of a day when the sound of Champions League anthem will grace his ears and that will be one of the most memorable days in their life.
For Barry, he played Champions League football only with Manchester City and made his entry into Champions League football on 14th September 2011 against Napoli. Since then he would only go onto play in 7 other Champions League ties and even though the dream was short lived, it was a noteworthy moment in Barry's career.
A century of Yellow cards
Gareth Barry also has an unwanted record to his name. He became the first player in Premier League history to get booked a 100 times. Despite not even featuring in the League since 2017-18 season he still holds the record for most yellow cards with 123 to his name. Just do the math, the suspensions caused bookings are big in number, had he played those games, he would have caught Giggs faster.
In a game against Stoke City on Boxing day in 2014, Barry lunged into a challenge with Steven Nzonzi, referee Lee Mason reached for his pocket to award the Englishman a caution, sending him to the top of the all-time Premier League bookings' list.
Appearance No.633
How can this not be a highlight in Barry's career? The article has been encapsulating Barry's momentous feat and rightly deserves a place in Barry's list of top career moments. On 25th September 2017, Barry stepped onto the field for record 633rd time overtaking Ryan Giggs. Perhaps Giggs would be a more fitting person to hold the record, right? The biggest Top Flight records have been held trendy names. Most Goals? Alan Shearer. Most Assists? Ryan Giggs.
Barry is rather a strange name but he rightly deserves it. His longevity needs to be celebrated as much as Alan Shearer's or Ryan Giggs' feats. He ended on 653 League appearances as West Brom went down to the Championship. If that hadn't been the case, he could have clocked over 700 appearances making him an almost untouchable in near future.
---
What Others say about Gareth Barry
Steve Bruce said "He's been a great player over the years. The way he looks after himself, conducts himself and how fit he is – it's a great testament of what you can achieve. He's been a very good player all his career – one of those players as a manager you can hang your hat on."

Stan Petrov said "He has everything – he can pass it, he can read the game, he can score and he can defend. You don't see many midfielders who can do everything as well as that these days. In my opinion, he is the best modern-day Villa player"

Arsene Wenger said "He is a player who is intelligent, determined, strong in the challenge and has a good technical quality. I personally always rated him highly. He was a bit unlucky with England because he was in the period of Frank Lampard and Steven Gerrard so didn't get the number of caps he deserved. It's an exceptional achievement."

Roberto Martinez said "It's an incredible achievement and something I don't think is ever going to be broken in the future. He's got incredible standards, a brain on the football pitch. He will be a manager one day, I've got no doubt about it – he inspires others. It's down to his professionalism, the way he looks after himself and the way he's been flexible enough to understand how football has changed in the last 20 seasons. I feel privileged to have worked with him – he's a special human being and the figures tell you he's a special footballer too".

Mark Hughes (when signing him for Manchester City from Villa in 2009) said  "Gareth was always someone I had admired from afar. He has a huge range of passing, can be constructive and destructive at times and I felt he was a player we needed to bring to the club. Those types of players are invaluable, he just comes in and gets the job done on a daily basis. You can hang your hat on Gareth Barry, he's able to produce performance after performance and that is invaluable to any team."

Jason Robert (pundit) said "He's such an unselfish player as well. The reason people don't talk about him in the manner they perhaps should is because he's happy to do the work that people don't notice. His influence to the team is much more than the sum of its parts."
---
What Gareth Barry says about Gareth Barry
When I started my career, we were running around water parks and ridiculous things like that. You used to drive in dreading pre-season back then, but now you know it's going to be pretty tough, but it's going to be probably what you need. It's going to be good for you instead of just slogging away."

"I feel very lucky that I'm left-footed because the number of us around is very small."

"I'm never going to be seen as an attacking midfielder who's going to dribble past anyone, create untold chances, and score lots of goals, but going forward is something I've always enjoyed doing."

"For me, Goodison is the toughest away ground to come to. I have experienced it."

"My upbringing wasn't overly comfortable. I've got three brothers and two sisters. Dad was a plumber who worked really hard to support six children, and Mum was busy at home. The four brothers shared a room, a bunk bed on each side. It wasn't luxurious."

"I was 32 when I signed for Everton, and Roberto Martinez said, 'With your style of game, you can play until you're 40.' I'm sitting there laughing at him, but he was deadly serious. I still laughed."
---
Trivia
Barry is best friends with Michael Standing, who signed for Aston Villa on the same day as him from Brighton in 1997. The pair have known each other since they were both ten years old. In 2009, Barry appointed Standing as his new agent after terminating his partnership with the previous agent Alex Black.
---
Gareth Barry stats , what you can find on Wiki ( and other sites )…
| | | | | | | | | | |
| --- | --- | --- | --- | --- | --- | --- | --- | --- | --- |
| Teams | Season | Age | Played | Started | Minutes | Goals | Assists | Yellow Cards | Red Cards |
| West Bromwich Albion | 2017-2018 | 36 | 25 | 22 | 1923 | 1 | 1 | 4 | 0 |
| Everton | 2016-2017 | 35 | 33 | 23 | 2108 | 2 | 1 | 10 | 0 |
| Everton | 2015-2016 | 34 | 33 | 32 | 2837 | 0 | 1 | 6 | 1 |
| Everton | 2014-2015 | 33 | 33 | 33 | 2823 | 0 | 2 | 11 | 1 |
| Everton | 2013-2014 | 32 | 32 | 32 | 2848 | 3 | 4 | 10 | 0 |
| Manchester City | 2012-2013 | 31 | 31 | 27 | 2398 | 1 | 3 | 6 | 0 |
| Manchester City | 2011-2012 | 30 | 34 | 31 | 2735 | 1 | 3 | 9 | 1 |
| Manchester City | 2010-2011 | 29 | 33 | 31 | 2702 | 2 | 3 | 8 | 0 |
| Manchester City | 2009-2010 | 28 | 34 | 34 | 2994 | 2 | 6 | 4 | 0 |
| Aston Villa | 2008-2009 | 27 | 38 | 38 | 3383 | 5 | 5 | 8 | 0 |
| Aston Villa | 2007-2008 | 26 | 37 | 37 | 3319 | 9 | 10 | 5 | 0 |
| Aston Villa | 2006-2007 | 25 | 35 | 35 | 3120 | 8 | 4 | 7 | 1 |
| Aston Villa | 2005-2006 | 24 | 36 | 36 | 3130 | 3 | 3 | 10 | 1 |
| Aston Villa | 2004-2005 | 23 | 34 | 33 | 2841 | 7 | 2 | 2 | 0 |
| Aston Villa | 2003-2004 | 22 | 36 | 36 | 3017 | 3 | 8 | 3 | 1 |
| Aston Villa | 2002-2003 | 21 | 35 | 35 | 3038 | 3 | 6 | 11 | 0 |
| Aston Villa | 2001-2002 | 20 | 20 | 16 | 1430 | 0 | 3 | 0 | 0 |
| Aston Villa | 2000-2001 | 19 | 30 | 29 | 2501 | 0 | 0 | 3 | 0 |
| Aston Villa | 1999-2000 | 18 | 30 | 30 | 2700 | 1 | 1 | 6 | 0 |
| Aston Villa | 1998-1999 | 17 | 32 | 27 | 2439 | 2 | 1 | 3 | 0 |
---
Gareth Barry 
Recent Posts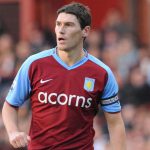 #premierleaguestories – Remembering the great players of Aston Villa #AVFC
It's more than a number. The digits Aston Villa stars and flops wear on the backs of their shirts can be ...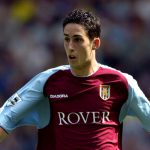 #PeterWhittingham #RIP – Mercurial #leftfooted magician who won #hearts of @CardiffCityFC fans
Where it all began.. Nuneaton-born Peter Whittingham began his career at boyhood club Aston Villa and was part of the ...

---
Gareth Barry
Tweets