Aston Villa 3 Manchester City 1 – Marathon Men of Aston Villa #AVFC Stay In #TitleRace
Aston Villa 3 Manchester City 1 – Marathon Men Stay In Race for Title
In a game that threatened to end Aston Villa's chance to win the premier league eventually ended with a result that left supporters of both the sides feeling happy. Manchester City took the lead via Nial Quinn goal but the away supporters were the happiest once Villa took the lead when they brought out placards that read "Aston Villa, Best of Luck From the City of Manchester".
Apparently Manchester City fans were happier that their city rivals Manchester United were still not guaranteed a title even if that meant that their own team faced a defeat. It took Villa almost 70 minutes to finally take the lead in the match and despite their manager Ron Atkinson saying that he told his team that they were not doing well, Ray Houghton revealed at the end of the match that what his boss told the team was "unrepeatable".
Only one point separated Manchester United and Aston Villa with only three matches to go in the premier league.
---
Premier League fans –  We would love to hear from you on the memories that you about English Premier League. Please fill out the form below and we would like to reach out to you and publish your "Premier League" moment to the world. 
---
[wpforms id="9187″]
---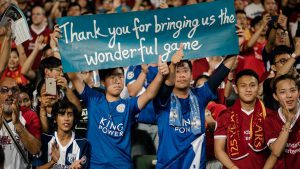 Tagged:
#TitleRace
1992-1993-Season
Aston Villa-Club
Chris-Waddle-Player
Manchester City-Club
Niall-Quinn-Player
Ray-Houghton-Player
Ron Atkinson-Manager