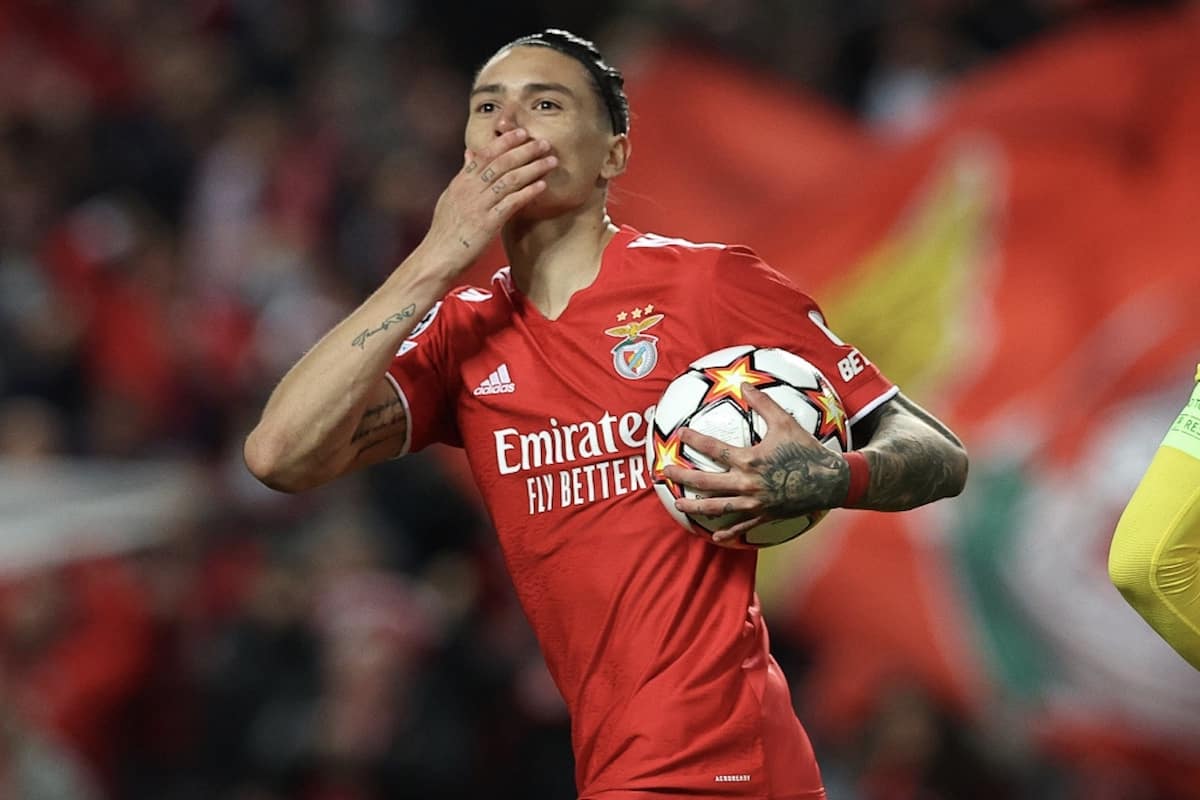 Darwin Nunez has revealed why he chose a move to Liverpool amid interest from Manchester United. Despite United being in need of a new forward to support Cristiano Ronaldo, who now finds himself as the club's only number nine following Edinson Cavani's departure, it became clear over recent weeks they were set to be beaten by their bitter rivals. Having completed his move to Anfield, Nunez lifted the lid on why he chose Liverpool.
Darwin Nunez said: "It's a pleasure to be here in Liverpool and I'm very happy to be a part of this great club. I've played against Liverpool and I've seen them in lots of games in the Champions League, and it's my style of play. There are some great players here and I think it's going to suit my style of play here. As I say, I've watched quite a lot and it's a very big club and I hope I can give everything that I've got in order to help the team. When I arrived at the training ground, I was really surprised to see the set-up and the structure and all the trophies here. You can then imagine yourself winning more trophies and then later on when you come here again and see the trophies on display, you can say 'look, I was a part of that, I was there at that time, winning trophies'. That's one of the reasons why I came here to Liverpool – to win trophies and titles. I want to win a lot of trophies at Liverpool."
Darwin Nunez has revealed he'll bend the ear of Luis Suarez over the next few weeks to help him become a success at Liverpool. Nunez has followed in the steps of his fellow Uruguayan by taking on the challenge of leading Liverpool's attack after completing his transfer from Benfica on Tuesday. Suarez scored 82 goals in 133 appearances for the Reds having signed from Ajax for £22.8million in January 2011. And asked if he'd the chance to talk with Suarez ahead of completing his move,
Darwin Nunez said: "No, not yet, I've not had a chance to be in touch with him just yet. But I'm sure when everything comes out on social media, I'll give him a call or I'll send him a photo that I've taken where he's there in the background in a picture. I'll send that to him and we'll have a bit of a chat and I'll ask him lots of questions so he can offer his support and help because he's a real reference to me because he's a Uruguayan footballer who made history at Liverpool. But, for sure, I'll get the opportunity soon to call him and have a chat with him."
Darwin Nunez has sent a heartfelt message to Benfica following confirmation of his move to Liverpool. The 22-year-old joins the Reds on a six-year deal for a fee of £64.1million (€75m) with a possible £21.3m (€25m) in add-ons. He completed his medical on Tuesday and the announcement was made later the same day. He spent two years in Lisbon with Benfica and scored 47 goals in all competitions. He also registered 16 assists in that time.
Darwin Nunez said: "I have no words to thank the supporters of Benfica. I have no doubts that you will always be part of my family. I arrived alone, but I leave with the love and support that these two years have given me. My family and I are eternally grateful. Glorious SLB!"
Nunez is relishing the opportunity to play under Jurgen Klopp and with the current crop of Liverpool stars.
Darwin Nunez said: "I'm really happy and delighted to be here at Liverpool. It's a massive club. I've played against Liverpool and I've seen them in lots of games in the Champions League, and it's my style of play. There are some great players here and I think it's going to suit my style of play here."