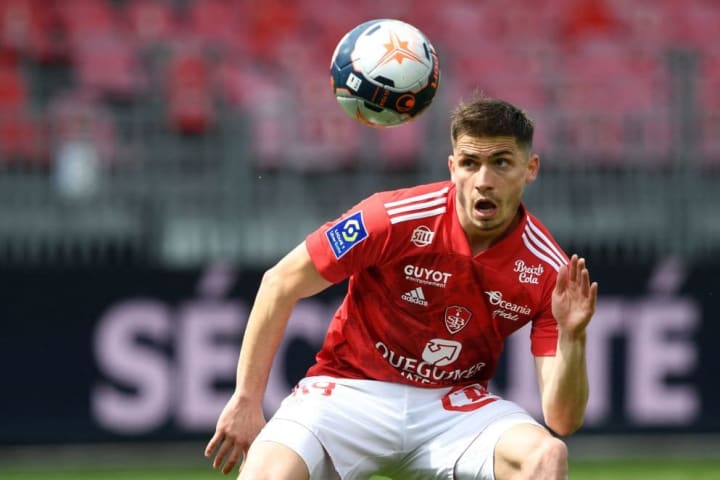 Romain Perraud insists there were "two decisions" he could have made when struggling to make Ralph Hasenhuttl's XI early in his first season in English football. One – to become disillusioned – would have been easy for the Frenchman, away from his family, friends and beloved partner in a new country.  The other takes a sense of calm derived from self-belief, ready introspection and a willing to work. "You can be not happy and angry, or you can learn," the 24-year-old summer arrival simply put to the Daily Echo. Perraud, signed from Stade Brest for around £10million, started three of the first four Premier League games – but just three of the next 14 as Kyle Walker-Peters began to strangle that left side.
Romain Perraud said: "When I arrived I needed to adapt to this championship, to the Premier League. It was a big difference with the French first division and Premier League. I began the first two games and after I was on the bench. When you're on the bench, you have two decisions. You can be not happy and angry at training or you can learn. In my mindset, I have to learn everything every day. When you're on the bench, you watch your teammates and you have to learn okay I need to do this, I need to improve this. This is my mindset and the season is very long, it is not a sprint but more of a marathon. Hopefully I have the chance to play and to give everything for my club."
It was Perraud who replaced the distraught 19-year-old on the day – and it thrusts him into a more significant role, with Walker-Peters now needed on his usual side.
Romain Perraud said: "I was very sad for Tino because when I came onto the pitch against Brighton I was shocked. He will come back for sure because he is very, very good. So I have thought for him. For me, there is Thierry Small on my position as well. If I am good, I will play – if I am not good, I will not play. I can be the only one on the position and still you have to prove on the pitch. Next season I have to do more. I am looking forward to the next season as well."
Things should get easier off the pitch for Perraud, with his girlfriend – who had been living in France for work – set to make a permanent move to England.
Romain Perraud said: "From July we will be together definitely. It will be a good year for me for the next season. It was not easy but you know, when you play football and you have been making sacrifices for a long time, what you have to do to be on the top. I love England. I love the culture and the passion for the football. I live in Winchester, a quiet city and it is not so far from Southampton or London. When you have a day off you can take time to discover different places. This is good for me, my girlfriend and my family as well."