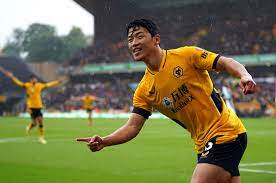 Hwang Hee-chan has spoken about how happy he is to commit his future to Wolverhampton Wanderers until 2026. The South Korea international has made his move to Wolves permanent following a largely successful loan spell. Speaking to Wolves club media after his permanent transfer was confirmed,
Hwang Hee-chan said: "I'm very happy to be here at Wolves until 2026. I feel very happy to play for a team with a really good manager and great teammates. They have helped me with many things since I came here, and because of this, I have been able to focus just on me and my football and have been able to do my things well. I want to say thank you to them because they have helped me to try my best."
Making his debut in Old Gold back in September against Watford, things could not have gone much better as he scored to seal Bruno Lage's first win of the campaign.
Hwang See-chan recalled: "I can't explain how happy I felt when I scored that goal. It was an unbelievable moment. My dream was to play in the Premier League and this game, my first game for Wolves, was when where my dream came true. I scored my first goal and it was a great moment. I was just so happy. For me, I was very honoured to hear the fans singing this song, and the song also made my family very happy."