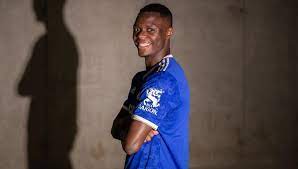 Patson Daka had to be reminded by Brendan Rodgers why he's been signed by Leicester City at half-time of their 1-1 draw with Brighton. Daka scored City's goal in the game, slamming in a rebound less than half a minute into the second half.
Brendan Rodgers said: "He's a goalscorer. I said to him at half-time: 'You need to sprint.' You've been brought to the club to sprint. In the first half he was a little bit passive for me. That's his strength, because he's solid technically, but it's his sprinting, it's his pressing. And at the beginning of the half he got onto the ball and finished it really well. He gives everything for the team, he ran himself into the ground, and it was a shame he had to come off."
In his post-match press conference, Rodgers suggested Daka's problem at the end of the game was merely cramp, but in any case, he has two weeks to recover before the club's next game, an FA Cup fourth-round tie against Nottingham Forest.