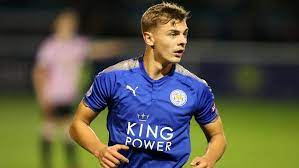 Kiernan Dewsbury-Hall is confident he can play his way into a regular spot in the Leicester City starting line-up.
Kieran Dewsbury-Hall said: "In the next year or two, I'm just hoping to be playing in the Premier League for Leicester. I believe I can do it. I wouldn't be here if I didn't believe that. I wouldn't deserve to be here if I didn't believe that. I know my ability and I know, if I get in, I can keep my place and play in the Premier League for the club I've been at since I was eight years old. I've got aspirations to play for my country. That's always been an aspiration. I know, especially now, you see a lot of young players getting into the England squad. It's not a million miles away. If you start playing regularly in the Premier League and if you're doing well, you've got a chance and you go from there. I want to be playing regularly for Leicester and then you never know. He (manager Brendan Rodgers) just said to trust him and keep working. My chances will come. I believe that wholeheartedly, but I know I have to work."
Dewsbury-Hall has made two starts in the Carabao Cup, as well as one at Legia Warsaw in the Europa League, and is slowly adjusting to life at the top level after his impressive year at Luton.
Kieran Dewsbruy-Hall said: "I played in pre-season as well and scored and assisted, so everything which I wanted to happen did happen. The season's come around and I've got some game time. We've got a lot of competition in midfield. It's probably one of the toughest areas of our team to get into. There's a lot of good players. My time will come and so I just have to keep working hard and, when I get my chance to play, I'll try and take it."