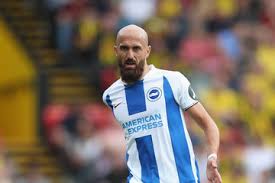 Bruno Saltor joined the Albion on a free in 2012, making the switch from five seasons of top flight Spanish football with Valencia and Almeria, to a team who were beginning their second season in the Championship. The move was a risk for the then 32-year-old, who joined a growing Spanish contingent who had put faith in the eccentric Gus Poyet. That summer, Albion also brought in Andrea Orlandi and David Lopez who joined Vicente and Iñigo Calderon, who were already at the club. Albion's senior player development coach told The Argus the move required adapting in almost every facet of his life.
Bruno Saltor said: "I came as an adventure. Not just myself, family wise as well. Not speaking any English, adapting to the culture, adapting to the food, adapting to everything. It's been a challenge every single day and that's what I and my family love. Every day you are still learning with the language, still learning different ways to cook, different ways to see life. It's been an incredible journey but I never would have expected to get where I am right now. It feels like home, as I said not just myself but my family as well, we love Brighton."
Bruno's last match before retiring was in the 18/19 season when Albion hosted Manchester City, scraping survival in their second ever Premier League season. Mural of Bruno in Church Street Albion's club captain of three years, passed on his role to current captain, Lewis Dunk, and said in his post-match speech, "once a seagull, always a seagull".
Bruno Saltor said: "Graham is another human being where he's really aware of the society that he lives in. It's so important the fit of Graham Potter as a person with Brighton and Hove Albion values. It just goes together really well. Graham has always been trying to help players develop themselves, understanding every single player. Not just as a football player, but as human being as well. After that he just gets involved with the society where he lives, the community that is Brighton."