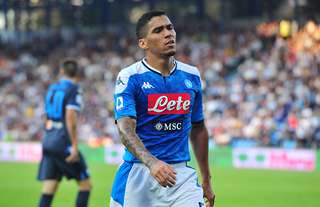 Allan believes that Everton can improve on last season because all the players are learning under Rafa Benitez. The Blues go into the last international break of the calendar year in the bottom half of the table after failing to win in their last five matches.
Allan said: "At Napoli, our formation was 4-3-3 and I played as a Mezzala , on the side of a midfield three, which gives you more freedom to perform the box-to-box role. You have more chances to shoot and can arrive more regularly in the opposition box, which gives you more opportunities to provide assists. But I am learning new things with Rafa Benitez, without a doubt. Every manager has a distinct way of working, Rafa has his and he's already added a lot to my career. You learn until the day you stop playing and the manager has helped me have a different view of some parts of the game. I always aim to adapt to the manager's instructions and I want to do my best for Rafael Benitez and help the team. Whenever I get on the pitch, I will always give my maximum. There are some games where we do better than others but the willingness and desire, giving 100%, will never change. It isn't only me learning a lot from Rafa, it is the entire group, and our intention is for this season to be much better than the last one. There are some details we need to correct, which is normal when a new manager is implementing his ideas. We started really well… now we need to work hard and follow Rafa's directions to get over this spell we are having. I believe everything is in place to improve on last season."
Allan is also relishing the full Goodison Park experience after having to wait almost a year to play in front of a capacity crowd at 'The Grand Old Lady.' Arriving in the summer window of 2020, his first season in England was marked by playing in mostly empty stadia and the few matches that did have spectators were of course severely restricted attendances in line with coronavirus regulations at the time. Fellow South American James Rodriguez, another player to have worked under Ancelotti previously, never got to play in front of fans at Goodison but while the Colombian has chosen to relocate to the Qatari League with Al Rayyan, the Brazilian is embracing life on Merseyside.
Allan said: "I've always loved watching football and always followed the English game and I think that helped me adjust. All the help I received from my teammates and everyone who works here at Everton, everyone who made me so welcome, has been great for me and my family. I was excited about a new adventure – for my wife and children, as well as me – but it has been an even better experience than I expected. And it keeps getting better. It is wonderful to play at a full Goodison Park, our fans are incredible, you feel their passion and it makes you want to give everything for them. We can also see more of the city and the area where we live and this adds to the fantastic experience. Everton is a great football club. I want to be here for a long time and make my name as part of a team that brings success for the supporters and the people who work for the club."