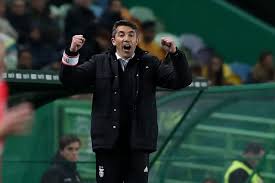 Wolverhampton Wanderers manager Bruno Lage is open to a return of the expanded substitutions rule after football lawmakers recommended that it become a permanent part of the game.
Bruno Lage said: "In Portugal, we already have that situation, and I will not change my opinion because now I'm in a different position. We don't have too many players, so if I have five subs then all the players will get involved in the game. If you are a strong team, you can change a lot. Sometimes the wingers to give more power in front, you can change more midfielders, or sometimes the strikers, so you have more chance to do it. If I had five subs to do in the last game, it would have been good for me, because I did two and I was trying to do something different. I tried to change Trincao, but Rayan [Ait-Nouri] asked for the sub. I wanted to change one guy in the front, but Joao [Moutinho] asked for the sub. If we change to five, we have more solutions to try to change our game."
Lage's stance is in contrast to his predecessor, Nuno Espirito Santo, who was against keeping five substitutions in place.