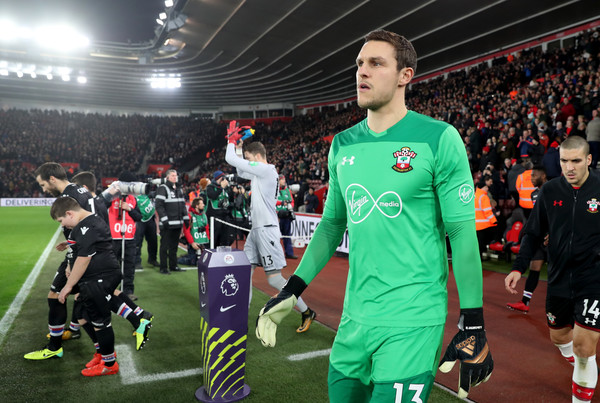 SAINTS' number one Alex McCarthy has revealed his frustration at being embroiled in a battle for the shirt with fellow keeper Fraser Forster during the second half of last season.  The 31-year-old shot-stopper has started every 2021-22 Premier League game of the campaign so far, but only kept his first clean sheet of the calendar year in September – partly due to being in and out of the team from March onwards. That result marked a spell of the final 13 games of the league season, proving to be an unlucky number for McCarthy who had started 24 of the 25 games that came before, only making six of the run-in as Forster made seven.
Alex McCarthy said: "Like you say, as a goalkeeper you don't often come in and out of the team as you need to find that consistency. So last season it was frustrating in the second half of the season, but it was just something I had to deal with. Obviously I went away at the end of the season and sort of went through my games and did a little bit of work here and there, made sure I came back for pre-season in good shape and yeah, I'm here now playing."
As a player, points are always the only thing at the forefront of one's mind. But as a goalkeeper, it's impossible to ignore the currency that is clean sheets. McCarthy had totalled 24 shut-outs in 128 appearances up to the point of his next, while watching Forster claim the only two of the year – and clean sheets aside, Saints have only won five games in 2021 and McCarthy's challenger was in net for four of them.
Alex McCarthy said: "Yeah it was obviously in the back of my mind," he continued, reflecting on keeping the opposition quiet against West Ham and Man City, "being a keeper that's what you aim for – clean sheets. Obviously it had been quite a long time so it was nice to get the two the other week, it was frustrating not to get the one against Wolves as well but yeah it is something that you strive for at the end of the game and you want as many as possible at the end of the season."
Saints have newfound competition in almost every area of their first-team squad after Ralph Hasenhuttl and Martin Semmens' transfer drive to reinforce depth this summer. But the keepers remain the same trio, with Harry Lewis making up the numbers in training. Although he seems to have won the battle outright now, the competition from Forster, McCarthy says, is what helps force him on.
Alex McCarthy said: "Yeah everyone just rotates round, there's three of us so it's a good number and everyone is pushing each other. It's a good group to be fair, everyone gets on with everyone, you just try and push everyone to get the best out of each other."