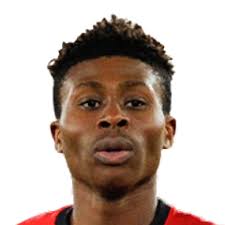 THE answer to Nathan Tella's lack of gametime may lie in how Ralph Hasenhuttl views his best position.   Hasenhuttl has persisted with the likes of Nathan Redmond and Moussa Djenepo on the wings in injured Stuart Armstrong's absence, and he may have given away the answer as to why it hasn't been Tella.
The Austrian Ralph Hasenhuttl said: "I must say that, in the ten positions, he has a lot of good qualities to play there. He is very energetic and he has a really good ability against the ball, running back and sprinting back. In this position though, you need to keep the ball a little bit more and to be a little bit cooler. He is like a young horse who wants to run, he wants to run at defenders and he wants to get behind the last line. It will help him if he can get a little closer to the goal," before adding crucially: "I see him as a striker. But he can play as a ten, yes. We have a lot of alternatives up front, so it will not be easy but he is still on my list. He is an alternative for Adam Armstrong, who does a very good job up front. He will get his chances to play."
Stevenage-born Tella is highly thought of both internally and externally at Saints, touted as the best academy product they've produced in the last few years. But with the preferred options of Adam Armstrong, Che Adams and even loanee Armando Broja – is that why he has seen so little action?
Ralph Hasenhuttl added: "We saw last season that Nathan was a young player who was by far the most developed of the younger group and he had a really good pre-season, also. I am actually a little bit disappointed at the moment that I cannot give him more chances to play. The games that we are playing at the moment are not perfect for him, I think. As always with young players, he must consistently work hard and show up to get those chances to play. He will get his chances to play, even in the Premier League."
Up until April 2017, Tella was playing for Arsenal in the Under-18 Premier League, before he was told that he wouldn't receive a professional deal at the end of his scholarship and he signed for Saints. The former Arsenal academy man looked like he'd made his name in Saints' first team squad a brief prolific spell in the B team, going on to feature 18 times in the Premier League. He got his first top flight goal against Fulham, and went from strength to strength in a good pre-season campaign. But now the 22-year-old has been limited to just one substitute appearance in the Premier League of just ten minutes, scoring and assisting in two EFL Cup matches too.