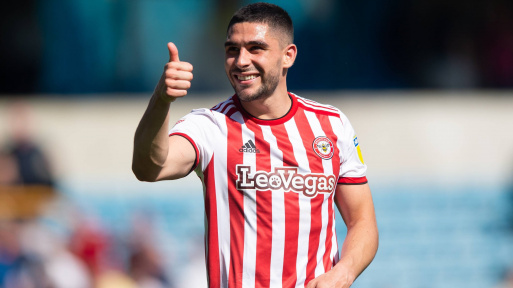 The French striker scored a last-minute equaliser against the Eagles to give Albion a share of the spoils after Wilfred Zaha had given Palace the lead from the spot in the first half. Albion found it a very hard match to create chances throughout the 90 minutes. However, in the dying seconds following a Palace goal kick, Maupay was played through in on goal. The quick-thinking striker then lobbed the Spanish goalkeeper, sending Albion players, coaches and fans into bedlam as they celebrated the goal.
Neal Maupay said: "Sometimes one chance is all it takes to score and take something from the game. When the ball bounced, I saw the goalkeeper off his line, and it is difficult for them to jump when they are running backwards. As a striker, I knew he was a few yards off his line this and knew it was my chance to put it above him, so I am happy with this goal."
Neal Maupay scores against Crystal Palace The goal is Maupay's fourth of the season despite only playing six games. Maupay was involved in a dispute between players after the whistle and
Neal Maupay added: "I think football is nothing without fans, and without some involvement between players. It's a derby. Everyone wanted to win. The atmosphere was really, really good. I scored, and I saw (Wilfried) Zaha and I smiled at him because I saw him celebrating his penalty in the first half and he gave some to our fans. I won't say what he said but you know how it is sometimes between players, you give a bit of banter. That was a good time for us because we scored in the last minute so it was a good time to give him something."
The result leaves Albion 6th in the Premier League, although a win would have sent them top of the table.