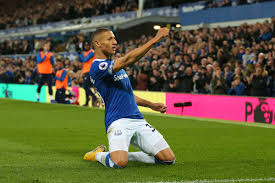 Richarlison believes 'everything is in place' for him to become an 'important figure' and lift silverware at Everton.
Richarlison said: "I think these things progress gradually, over time I'll win more trophies with the national team and in an Everton shirt. I think everything's in place for me to become an important figure in the Brazilian national team and at Everton. I think I just need to continue working hard, keep scoring goals, win trophies and it will all work out for me. I think we are having a great season, but the crowning achievement would be to qualify for the Champions League. We're going to chase this place right till the very end. This year there's also the Copa America for me, and possibly the Olympics, so there are two trophies to compete for with the Seleção and with Everton it's a place in the Champions League."
When asked about competing with Liverpool, Tottenham Hotspur and West Ham United for a place in Europe, Richarlison set his team-mates the challenge of 'meeting' their targets this term.
Richarlison said: "Yes we know they are quality teams, but we've also beaten all of them so I think we come into games as equals with any team in the Premier League and we're going to fight until the very end, we've got 10 games left to meet our targets."