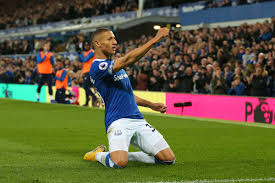 Richarlison has revealed mid-season talks with Carlo Ancelotti after becoming frustrated by the defensive 'difficulties' of his tactical role in the Everton side. The Brazilian forward subsequently went on to score six goals in six appearances and boasts seven strikes since the New Year, opening the scoring in the win at Liverpool and bagging the winner against both Southampton and West Bromwich Albion.
Richarlison said "I had some difficulties at the start of the season, so I went to speak to the boss and said I was doing a lot of marking, defending a lot. I was back there with Yerry Mina. I said I wanted to be closer to the opponents' goal, closer to the box. He changed my positioning and that's the point when the goals started flowing and I began helping the team even more."
Richarlison also believes Everton are ready to challenge for silverware under Ancelotti. The 23-year-old says the manager has instilled a 'competitive edge' to the squad at Goodison Park and insists he is 'here to learn' and 'develop' after the Italian confirmed he would do everything in his power to keep the star forward at the club for the long-term.
Richarlison said "With [Ancelotti] joining the club, everything changed… the [revised] mentality means we can win trophies, because he's won everything. Having him here means we will be fighting for more trophies. We've been looking for this competitive edge, so we have everything it takes to have a bright future. Carlo has worked with the best players in the world and I am here to learn with him and develop. We have a lot of young players and I have learned a lot with him. I'll keep on developing with him in training and I am keen to listen, as he will teach us a lot."