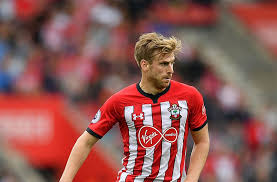 Armstrong has again proved to be a key cog in Saints' side this season and signed a new long-term deal with the club in January. He is currently away with Scotland, embarking on their 2022 World Cup qualifying campaign, and will hope to win a 25th senior cap against Faroe Islands on Wednesday. But with Euro group fixtures against Czech Republic, Croatia and the 'Auld Enemy' England to come in June, the anticipation is certainly growing north of the border.
Stuart Armstrong said: "It's a fantastic achievement for the country. There's so much excitement and happiness involved with it. We've waited so long for a major tournament. It will just be a dream come true to hopefully be involved with the team come the summer. But you have to park that in the back of your mind and focus on Southampton and focus on the games ahead and doing your best, because ultimately that's what earns your place in the national team."
Almost every Scottish football fan will, for many years to come, remember exactly where they were when the nation were triumphant in their first ever penalty shootout, to move to within the brink of finally securing a return to a major tournament. In truth, given the current situation around the world, the answer for most will have been 'sat at home' on Thursday, October 8 last year.
Stuart Armstrong said: "It was a very tough watch. It was a massive, massive game and not easy to watch from the side.  Obviously a couple of boys isolating with me is never nice. It's always better playing because you don't have that sense of nervousness from the side. But the boys did great and fantastic to get the result."
Discussing his experience of COVID-19,
Stuart Armstrong added: "There were not too many symptoms, just a couple of days of feeling quite fatigued. And losing some taste and smell, which was quite a frustrating thing because when you're in the house all day, every day for a couple of weeks, a bit of excitement is having something nice to eat! So when that goes, there's not much left. But coming back and feeling fit again was a relief."
Despite recovering from coronavirus, Armstrong has suffered with a few niggles throughout the season, with Saints boss Ralph Hasenhuttl always keen to manage the 28-year-old's match minutes.  Asked if he felt stuck in the middle of demands put on him by his club and his country,
Stuart Armstrong said: "I think it was just unfortunate. Injuries happen, they're part of football.  But I think, as you've seen throughout the league and with the schedules involved, a lot of players have been picking up little injuries that maybe they didn't last season when the schedule was slightly less. It's just part of the world we're in at the moment because of the way things are."

Donate to Premier League Museum
Leaderboard
Leaderboard is empty