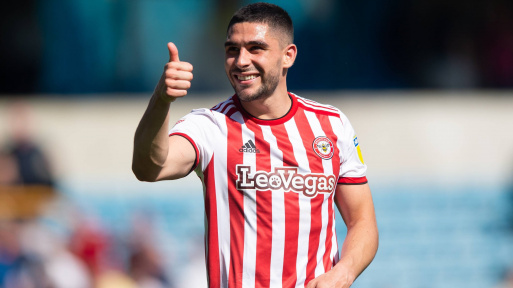 Neal Maupay was in quietly confident mood as Thursday afternoon drifted into evening this time last year. He had done his media duties in a socially-distanced session with reporters at Albion's training complex. We had been told the game at home to Arsenal that Saturday was on, despite increasing concerns about coronavirus. Now it looked like all systems go as Albion looked to complete a double over the Gunners. Maupay spoke about his winner at the Emirates when talking to reporters early that afternoon.
Neal Maupay said "It was a great memory for me but also for the club and fans as well. 
He said a few things had changed during the preparation to this return fixture due to the virus.
Neal Maupay said "I wouldn't say it's normal because everyone is aware of the situation. In training there is contact but we try to not stay not too close at lunch and not shake hands."
There was no talk about the season being halted but Maupay was asked about the prospect of playing behind closed doors in the weeks to come and was not keen. But he said players would follow instructions. We did not know it at the time but this press conference was the last we would attend in person at Lancing until who knows when? Precautions were in place but we were in the early stage of such things. No one thought of wearing masks. We were asked to sanitise our hands on entry to the building (as we had been on two or three previous visits) and our phones were wiped over. We sat back further than normal as Maupay and, later, Graham Potter answered questions. A good five metres or so away from the top table. Yet the various reporters sat there pretty much shoulder to shoulder during the two 30-minute sessions. Early days. Very early days.
Potter was asked three questions into his own press conference when he was first asked about the virus.
Graham Potter said "Our job is to be professional until somebody says otherwise. The concern as human beings is we are in the middle of a pandemic. To say I wasn't concerned would be a little obtuse, I think. You understand the bigger picture and the global situation but we are going to be guided by the authorities in terms of what we need to do and then we will do our best."
By late Thursday afternoon, the match previews were being written. There had been confirmation the fixture would go ahead, despite Arsenal's game the previous evening being postponed because players and staff had come into contact with Olympiacos owner Evangelos Marinakis, who had tested positive for coronavirus. At that time, Arsenal had confirmed that no players or staff had shown any symptoms of illness and their period of self-isolation ended that day. Everything came crashing down at about 9.30pm on the Thursday.
Albion's chief executive and deputy chairman Paul Barber said "I got a call from my equivalent at Arsenal, Vinai Venkatesham, and he said, 'Listen Paul, I've got some bad news, Mikel (Arteta) has tested positive, I don't think we are going to be able to play on Saturday' and I was like 'Wow, okay, what do we do here?'. We both thought we should speak to the Premier League, which we did and they said we would have to postpone the game. We announced the postponement that evening, we passed on our best wishes to Mikel and, within 24 hours, the Premier League called an emergency shareholders meeting on conference call and they postponed that weekend's fixture programme. Although our game went first the others followed within 24 hours. I think at that point we were in a very difficult position of not really knowing much about the virus and the effects but seeing the death rate go up. And, at the same time, wondering how the hell we should proceed with the league or cancel the league. It was a very difficult time because of the unknown. There were no guidance notes from any of our predecessors. I think it's a great credit to the Premier League that we completed the season. Great credit we restarted the season. And great credit to all the broadcasters for making sure the fans didn't those out at any time in so far as they saw the games they wanted to. Clearly not being at the stadium is a massive loss to the fans. Hopefully financially none of them are any worse off, certainly not at our club. Equally they have had a good chance to see the majority of the games. If they haven't got Sky then the Match Of The Day programmes which ha e been added ha e given them chance to see the highlights."
Barber is hopeful some fans could return for the end of the season.
Paul Barber said "Looking back, we were incredibly naive about what was about to happen. I remember driving out of Molineux a year ago and looking at all the fans and wondering whether we were about to see some real changes about people being able to go to football. But it was a passing, fleeting moment. I don't think I thought there wouldn't be anyone at games for 12, 15, 18 months."
Barber is proud of how the game in general has acted since that Thursday evening.
Paul Barber said "I think football has done very well during the 12 months of the pandemic to do what it could do to make sure fans saw games. Make sure players and staff were safe, make sure the communities were supported wherever possible, make sure the government messages were supported, make sure our facilities were turned into testing centres and storage centre and vaccination training centres. If I look back, I think our industry overall has done a decent job in every respect. We have protected our jobs, haven't taken – for the most part – Government loans, we haven't used furlough."
Furlough, Zoom. Not really part of our vocabulary as we sat there that Thursday.
Looking head to the Arsenal game,
Neal Maupay said: "We believe in what we do and we believe we can beat them."
Which they did – with Maupay taking centre stage. But a lot happened between that March afternoon and the Gunners' visit.

Donate to Premier League Museum
Leaderboard
Leaderboard is empty