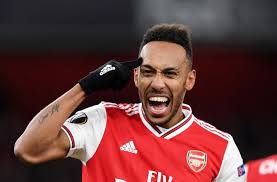 Pierre-Emerick Aubameyang has returned to goalscoring form of late. Asked about his goal celebration
Pierre-Emerick Aubameyang said: "I think it's because I feel so free when I do the front flip, I feel really, really free, that's my moment."
But, can Aubameyang change it up and do a back flip and if so, when would he do it?
Pierre-Emeric Aubameyang said: Maybe I need to check with some adrenaline, in a final maybe why not the back flip? I will try it and don't break my back!"
The only final Arsenal can reach this season is going to be the Europa League, so Gunners supporters will be hoping they get there and to see if the frontman busts out a back flip if he scores. It has been a difficult season for the Gunners skipper and the team as a whole, but he has six goals in his last six games in all competitions for Arsenal, with fans hoping it signals a return to form for the rest of the season.