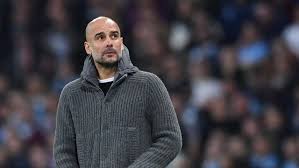 Pep Guardiola admits that Ederson's brilliant drilled assist for Ilkay Gundogan 's second goal makes him a possibility as Manchester City's penalty taker. But the Blues boss is still reluctant to allow the Brazil international to step up and take on the job and is concerned that the issue is still not settled, especially with big games on the horizon.
Pep Guardiola said: "I would say if he is able to make this assist for 70 yards, from 10 metres, it is easier. The quality of the shot, Eddy is the best, but penalties are completely different. It is another speciality, especially here. I'm so delighted for Rodri for the courage to take it and take the responsibility but the take was not good. I have to reflect because I feel it is coming, with Everton and the Champions League, these kind of situations when you miss it is so hard and we don't have a real specialist to take it – that is the reality."
Rodri was the latest Blues star to stand up and take a spot-kick, and he scored to give them the lead against Tottenham, in a 3-0 win.