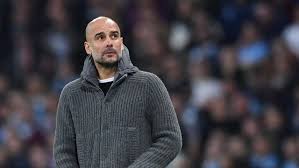 The Champions League defeat will always be the most agonizing but Pep Guardiola has rarely enjoyed facing Tottenham during his time as Manchester City manager.
Pep Guardiola  said "Always they were tough games. I had the feeling we played well most of the time but most of the times we lost or we drew.  It is because they have quality. When a team have a good manager and do things well and don't need much to score goals, it is not a frustration, it is admiration and you learn from that. It is a huge quality of a team that is strong to defend deeper with this incredible amount of minutes with this concentration. If with one or two chances they score two goals, this is a huge quality. I would love to have this quality. That's why they are a fantastic team. If a team creates 20 chances and scores one goal, this is not a good team. We have to create and play better to create more chances."
If Tottenham represent a major test for a City team on a phenomenal run, there is plenty of pressure on Guardiola's former rival Mourinho. The ex-Real Madrid boss actually won Premier League Manager of the Month in November after guiding his team to the top of the table but they will arrive at the Etihad 14 points off top spot having just been dumped out of the FA Cup and with tensions with Gareth Bale. It is to the credit of both managers that they are still sparring 10 years after their ugly rivalry in La Liga, and Guardiola explained what both still have to prove in the game.
Pep Guardiola  said "It is difficult. Here we don't have time. You have to win, you have to get results and you have to convince the players every single day it's the best way. The results help to convince them much each easier. It is a process that never ends where you have to prove yourself every single day. I understood from the beginning it is not you can expect that today is good because you won yesterday. There is so much pressure on our shoulders. All the managers know we are in a weak position. When everything is wrong it is on our shoulders. That is why you have to prove yourself again and again and again. But that is what makes it fascinating because it would be boring to live on the titles won seasons ago. You have to prove every day because tomorrow is another test. You have to be scared of losing, you have to pay attention to many things not to lose the game. Enjoy the night of your win and the day after be thinking about the next one already. It is the only way to survive in this business. To show again, again and again that you deserve to stay here. If not, you will be relegated."