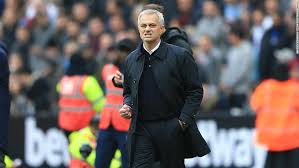 Tottenham fans will find it extremely hard to forget the team's last two trips to the Amex Stadium. Back in October 2019, Mauricio Pochettino suffered one of the lowest points of his Spurs tenure following a dire 3-0 defeat on the south coast days after his side had been demolished 7-2 by Bayern Munich in the Champions League. Nearly 16 months on and the Lilywhites once again headed to the Amex on the back of a defeat, this time against Liverpool, and it was again a case of more of the same as Graham Potter's side recorded a crucial 1-0 win. Brighton were full value for their victory but in fairness it was all a bit too easy as the visitors delivered a drab and dismal performance from the first whistle to the last. Only having one shot on goal in the first half, Spurs worryingly recorded eight across the full 90 minutes compared to Brighton's 16.
Despite the bleak numbers and performance, Mourinho claimed in his post-match press conference that his side "improved a lot" after the break as they searched for an equaliser.
Jose Mourinho said: "I disagree, first half totally agree, we didn't start well and after conceding the goal nothing improved in the first half,". In the second half I have to disagree. Of course they had the best chance that situation that Toby saved on the line, but what they had was a consequence of our dominance and a consequence pure counter attack. Our spirit in the second half improved a lot from the first half but a lack of countenance, that lack of self esteem that I believed we showed in the first half was back in the second half. We dominated and they defended very well and with everything they had and they finished the game with four centre-backs and two full-backs which is not a criticism, it is just what happened. The goal didn't appear to give us that morale, that extra energy you need when you are losing the game."
Dealt a major blow on Thursday evening with Harry Kane forced off at half-time with two ankle injuries against Liverpool, the head coach had to change things about and try and find someone to replace the England captain. Now having a second out-and-out striker at the club in Carlos Vinicius, the 58-year-old instead decided to bring Gareth Bale into the team and utilise him on the right wing with Steven Bergwijn operating through the middle.