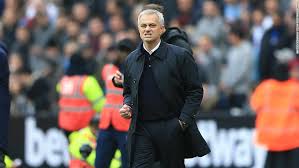 About the fixture schedule, Jose Mourinho lashed out at the Premier League – and made a plea over Newcastle's postponed match against Aston Villa.
Tottenham leads the Premier League table, but since their opening weekend matches were postponed due to Europa League obligations, four teams have managed to play nine games.
And now after this weekend, after a COVID outbreak led to the Villa game being postponed, Newcastle will have a game in hand for the remainder of the league.
It also suggests that the side of Dean Smith has two games in hand and Mourinho needs matches played before the season's half-way stage.
Spurs manager wants clarity on the schedule because it impacts the integrity of the league.
Mourinho said, "It is very difficult to accept that four clubs have one match less than the others and I don't even know when they're going to play these matches which in every (other) country would be impossible. They have to be played until at least the end of the first round. Before matchday 19, they should be playing these matches. I don't even know when Burnley, City, Villa, United – and now Newcastle and Villa – are going to play. It can affect the competition. I was trying (to find) an answer this week and no one can give me that answer. We played four matches in one week and nobody was crying or supporting us."

Donate to Premier League Museum
Leaderboard
Leaderboard is empty