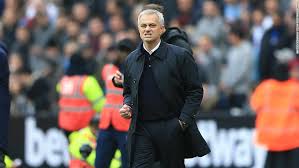 Spurs manager Jose Mourinho praised two of his players, Hojbjerg and Son, after Tottenham's 3-3 draw against Austrian's LASK in the Europa League group stages
Spurs though qualifying for the knockouts failed to put a quality performance well below Mourinho's standards.
After some good and "poor individual performances", two players, in particular, stood out for Mourinho which he said after the game.
Jose said: "[ I learned] nothing new really. The fact that the Europa League group phase doesn't motivate some of the players, I knew it. That some players are fundamental for us and I always need on the pitch in any circumstance, a couple of these players to give a little bit of balance to the team. As an example, [Pierre-Emile] Hojbjerg and Sonny, without them I don't think we would have a positive result. Nothing really that I learn. The players know that and I share my feelings with them, I am normally right and when I saw the warm-up before the game I had a feeling and I told the players before the game that was a huge difference in intensity, communication and enthusiasm in their warm-up and our warm-up because I was looking at both. Nothing surprises me. But the contradiction to that is players like Son and Pierre that are players that starting every match, are examples of the guys that it doesn't matter where, it doesn't matter the competition, they are there and they are in front of the team every time".

Donate to Premier League Museum
Leaderboard
Leaderboard is empty