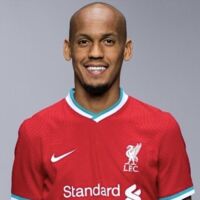 Jurgen Klopp has hinted at an in-house answer to Liverpool's defensive headache – as they continue to be linked with Ben White. The Reds are reported to be considering a January move for White after losing Virgil Van Dijk to a long-term injury. They were already expected to maintain their interest in the rising Albion star – irrespective of the Van Dijk setback. But Klopp has spoken today about Fabinho's ability to play at the back alongside Joe Gomez while Van Dijk is out for an as yet unspecifided period of time.
Jurgen Klopp said: "We all know Fab can play (centre-back). He played it against Bayern at home and was great. I am not surprised but he needs to get used to it. These boys need to get used to each other."
Klopp also spoke of young Liverpool centre-back Rhys Williams, who played briefly against Ajax in the Champions League this week, as "a real talent". He was non-committal over whether fellow central defender Joel Matip will be back from injury this weekend. Liverpool watched White extensively last season but decided not to push for another centre-back in the summer. Sources on Merseyside say it "is clear Liverpool like him" but there is a school of thought that, despite Van Dijk's injury, they may wait until next summer to make a move. That would give them a season on which to judge a player who has so far appeared just five times in the Premier League. Like Van Dijk, White has poise on the ball. But the Albion man is not a commanding figure in the air in the same way as his counterpart at Anfield. Albion's message has been consistent – that they have no need or wish to sell White. Reports of a £50 million price tag appear to date back to the summer, when Albion repelled three bids from Leeds for the player who shone on loan at Elland Road last season.