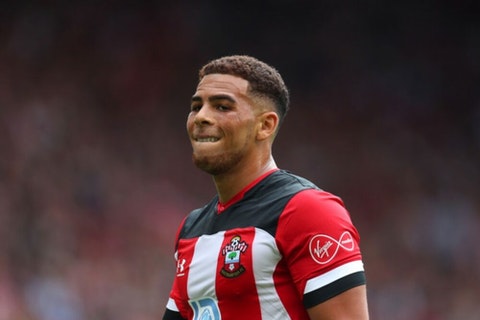 A closer look at the birth certificate of Che Adams would also inadvertently point you in the direction of Saints' weekend opponents. Curiously, one of Adams's middle names is, in fact, Everton. But the striker insists it has nothing to do with the Toffees. Che Adams was also asked if he feels he has improved or changed as a player since joining Saints.
Che Adams said "That's right. I was named after my dad.  That was my dad's name, nothing to do with the team! Yeah, definitely. I  think the lads have helped me improve in training sessions, game by game and just given me the experience they know in the Premier League and just rubbing it off on me really. It's always going to be hard, a different philosophy and a different way of playing. But I know my role now and I think everyone does in the team and I think that's something that is really important. I think the first thing you have to do is look at yourself and what you're doing wrong and how you can improve. I did that in the lockdown and I've come back much better after the lockdown, just concentrated more and just put my head down and stuck at it. It's been a positive one, Obviously getting a couple of assists in there for Ingsy, so it's just something to build on now and hopefully I can keep the form up for the rest of the season. It (the goal against Chelsea) was all madness to be honest, what happened. But I'll take those sorts of goals. If they keep coming, I'll keep taking them. Hopefully I can continue helping the team. That's the most important thing."
On the opposite side of the fence this weekend will be a striker well-known to Adams. Dominic Calvert-Lewin has been in red-hot form for the Toffees, netting in all five of Everton's Premier League games so far this term, placing him joint top in the race for the golden boot with seven goals, level with Tottenham's Son Heung-Min. Calvert-Lewin and Adams played alongside each other during the pair's early days together at Sheffield United. Coincidentally, Calvert-Lewin actually came off the bench to replace Adams to make his Blades debut in April 2015, in a 1-1 draw at Leyton Orient in League One. Fast forward five-and-a-half years and the duo are set to go head-to-head having each made their mark in the top-flight last weekend.

Recalling his time at Bramall Lane with Calvert-Lewin, Che Adams said: "You could tell he had something. He was just very athletic as you can see now, the way he plays is very dynamic so it's going to be a tough game. He's a very good player. He's getting his rewards now. He's got his England call-up and is scoring goals for England now. But if we can keep him quiet, then who knows what can happen. No game in the Premier League is going to be easy, but we're fully concentrated on Everton now and hopefully we can cause an upset. Scoring Streaks just happen as a striker. You can talk to Ingsy about it. Once you hit the back of the net in quick succession, then the confidence just keeps going up and up."
Given Adams had been ahead of Calvert-Lewin in the pecking order at Sheffield United all those years ago, does he now look at the in-form frontman and think he could also replicate the kind of form currently shown by his former team-mate?
Che Adams said "No, not really. He's obviously playing for Everton and we're two different types of player. So I just have to concentrate on my game and my team. When I was in the Championship I had those games where I'd go all game without touching the ball and then if it comes to me, I'm just scoring. It's just confidence really and something you have to take for granted and build on it each game."
While his name may have no direct link to the club, Adams was heavily linked with a move to Merseyside last year, before he completed his move to Saints. But having left Birmingham for the south coast last summer and got to grips with Ralph Hasenhuttl's style at Saints, Adams has become an important cog in the side. The 24-year-old, who netted his first goal of the season in the 3-3 draw at Chelsea last week, has started in each of Saints' six matches in league and cup so far this term, alongside star man Danny Ings. Having netted 22 goals in the Championship in 2018-19, it surprised most that it took 30 games of the following season before he registered his first strike for his new club. However, since his stunning effort against Manchester City in July, Adams boasts a decent return of five goals in 12 matches, following his effort at Stamford Bridge last weekend.
Adams's spike in goals has come since football returned after the nationwide lockdown due to COVID-19. Quizzed on if the enforced three-month break helped him look at ways to improve, ready for when he did get back on the pitch.