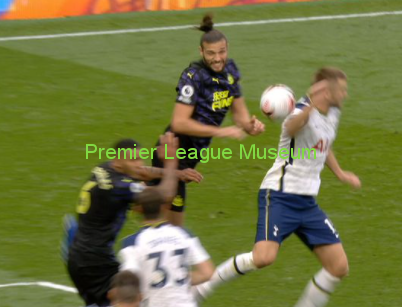 The late penalty that Tottenham conceded against Newcastle at the weekend has opened up a debate of its own. Whilst many agree that there was little that the Spurs man could do there are others who question his positioning. On one side, Liverpool boss Jurgen Klopp has backed Eric Dier over that controversial handball decision.
Jurgen Klopp said "We all agree that Eric Dier didn't do anything wrong, In the end, it was a penalty. If you can't see it, you can't really control your body in that moment, it's just not possible. Try to jump in a situation like this, and behind you is a player, so the only opportunity is to cut arms off, so you can't even keep them in your back, that's not possible. I think that referees are not really happy with the rule, but in the moment, we have that rule. In the same way, I'm not happy with how long we wait for offside decisions. I always have a heart attack because I can't see all of them, 100%, it just looks constantly offside and yet, the flag comes. If the opponent wins a corner in that situation, we don't take it back; if you're offside when you get a corner. These situations are really strange. Some rule changes, and some other things we changed didn't work so far, but in the moment we have to accept it and that's what we do."
Whereas Roy Keane has slammed Eric Dier for conceding a late penalty during Tottenham's controversial draw against Newcastle United. The decision came after Eric Dier was adjudged to have handled the ball and while most were outraged at the decision Keane took aim at the England international.
Roy Keane said "I can see why he gave the Dier one, I really can, I think, okay, he's jumped up, but he's still flung his arm in the air. It's bad defending anyway, I don't understand the modern defender not reading the flight of the ball. He has swung his hand up, I don't know why he's done that, so I can see why that's been given as a penalty."