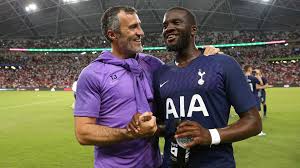 Jose Mourinho believes Tanguy Ndombele deserves all the credit for his transformation this season and that he realised his Tottenham Hotspur career was going in the wrong direction. Mourinho was left delighted with the performance of a gifted player now adding workrate to his talent.
Jose Mourinho said "I'm very happy. I say all the time, when a player improves it's a player's responsibility, it's the player's credit, it's not the coach who makes the miracle. The player that does that by himself, to understand what he has to understand and go in the right direction that he has to go. Tanguy, step by step, is doing very well. Today, he played 90 minutes. Why? Also, because we have the ball, I don't have the data numbers, but we had the ball a big percentage of the time and of course it was easier for him to be on the pitch for 90 minutes. Even so, he was good and brought a very good dynamic to the team, he managed to recover some balls, managed to make an effort in defensive transitions, and of course it was a positive game for him."
Mourinho was asked whether he sat Ndombele down to talk to him about what he expected.
Jose Mourinho said "No, I just think that he felt the direction which it was going was not the right one and it's something that players with me, they feel all of the time that I don't give positions for free," explained the Portuguese. The players have to fight, they have to perform, I would never give him a place in the team because he was an expensive buy or because he's an important player. He has to do that by himself, probably with the help of his colleagues, with the help of his team-mates, he went in a good direction. Let's wait and see, Premier League matches are much more difficult matches than this one. The intensity is completely different, the quality of the opponent is much better, but against Southampton, even for 45 minutes, he had positive things."
The Spurs boss was asked whether Ndombele's reaction to adversity was the type he wanted to see from any frustrated player not getting minutes in his team.
Jose Mourinho said "Yes, that's what I want. I don't want players to moan, I don't want players to be feel frustrated, I don't want players to feel that I have something against them when I don't pick them up. I want players to fight for the minutes that they want to be on the pitch and when you play for Tottenham, you have to understand that Tottenham wants to be better and better and the rewards are going to be better and better and the players cannot have a comfortable position on the pitch. They have to be ready to fight for the minutes they want to be on the pitch."
Following a tough first season following his club record move from Lyon with question marks over his fitness and motivation, not least from Mourinho, and with speculation surrounding his future, the 23-year-old central midfielder returned this season with renewed vigour. He has been impressing the staff at Spurs on the training pitches at Hotspur Way and has been looking better and better in his minutes in matches, earning him his first full 90 minutes of the season in the 3-1 Europa League victory at Shkendija on Thursday night. Ndombele showed far great fitness levels and the defensive side of his game and tracking back was maintained for the full encounter in North Macedonia, showing his training is bearing fruit.