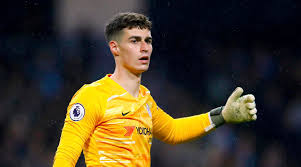 In just the second game of the Premier League season, Chelsea goalkeeper Kepa Arrizabalaga made his second crucial error of the campaign. With the Blues down to ten men and trailing Liverpool 1-0, the Spaniard tried to play a pass to Jorginho in his penalty area, only for Sadio Mane to intercept and score for the Premier League champions.
Chelsea boss Frank Lampard said "With the Kepa situation it is a clear mistake. It has cost us because we have gone on and won a penalty and maybe should have scored. Those fine margins change games at this level. We have to keep working, Kepa has to keep working and have support around him, that's very clear. It was a big mistake on the day. Kepa is our player. Today was a clear mistake, Brighton was a mistake as well and he has reflected on that as well. We have to keep working, it's the rule of football. In difficult times players need support, particularly from myself, I give that to all the players, Kepa has to keep working. Nobody tries to make mistakes in football. It's the nature of the game, we have to be strong and keep going."
Lampard confirmed Willy Caballero will play in the League Cup fixture against Barnsley in midweek, before reiterating his support for Kepa.