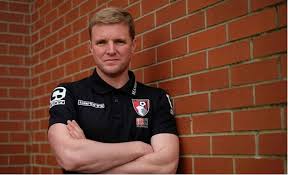 Despite the unfortunate relegation. Bournemouth boss Eddie Howe insisted he would not be swayed by outside talk and added: "I'm the only one who knows what I need." There were reports prior to the last game of the season that Howe was "contemplating taking time out from football after a draining season". But the 42-year-old said that only he knows what he is really after.
Eddie Howe said "Everyone is entitled to their opinions but I'm the only one who knows what I need. I'm very strong-minded and strong-willed, so I've no issue with that. I won't be swayed by any outside opinion other than what I think."
Eddie Howe did a fantastic job with Bournemouth bringing up and keeping Bournemouth in the premier league for five seasons and there are indications that he will be taking a sabbatical to take some time off football management.
Source:
Leeds United Daily news -  Saumil Dave - -