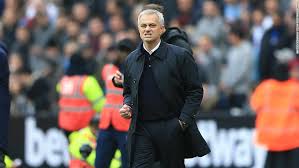 Jose Mourinho has revealed how he decided to throw Japhet Tanganga on the biggest of the stages because he felt that the player was ready for the challenge. Mourinho threw Tangagnga in the first team against Liverpool and despite him having cramps in the second half he played for the full 90 minutes and looked at home.
Jose Mourinho said "Playing in front of such a large crowd I felt this was an opportunity to show the world what I can do, Just keeping working, just digging in and finding another side of me that I didn't think that I could probably bring out. I was literally talking to myself and telling myself 'just give us 10 minutes, keep watching the time, keep pushing yourself through it and sooner or later it will come to an end.' "He marked Cristiano Ronaldo, make him known, (In pre-season)"
Despite being often criticised for not giving youth and academy players a chance Mourinho decided to take a punt on Tanganga whereas his predecessor Mauricio Pochettino was much more hesitant in throwing the young defender to the deep end along with another bright prospect from the Spurs' academy, Troy Parrot.