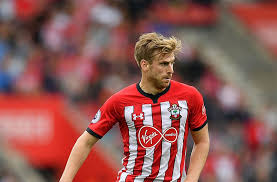 Stuart Armstrong is starting to feel like he finally belongs in the Premier League.The Scottish international left the relative comfort of trophy-winning Celtic to join Saints for £7million in 2018. Armstrong has been in and out of the team since signing but, before the coronavirus crisis, he was a regular starter and looked to be a bargain buy. Ralph Hasenhuttl started to deploy the 28-year-old as his No 10 which is, arguably, one of the more difficult positions to play in.
Stuart Armstrong said "It would be nice! I think each time that I play you want to show what you are capable of and sometimes in the past that has been difficult. But it's a whole package about staying optimistic, training hard and understanding what the manager wants from you and then you have to deliver that when you get the opportunity. At the moment, being part of a Southampton team that is winning games and putting in good performances, is a great feeling. That's something I'm very happy to be part of and then playing in the Premier League tops it off as well."
Having been a fringe player for large parts of this season Armstrong revealed it was an honest conversation with Hasenhuttl that helped turn his campaign around. As with most footballers, the former Celtic man was frustrated to be out of the starting XI and consigned to a role on the bench. It was hard not to feel some sympathy towards Armstrong when he was brought on against Leicester in the 70th minute with Saints already 7-0 down. But, for Armstrong, the frustrated figure on the bench is a thing of the past.
Stuart Armstrong said "I think everyone playing football would feel frustrated when they are out the team. Sometimes not knowing why or having to compete for positions but that's part and parcel of football and there will always be highs and lows. I've experienced that at different clubs and it was about understanding and having an honest conversation with the manager. I had to know what he needed from me as an individual  to play in his team. It was then about training on those aspects and delivering that for him when I got my chance in the team."
Armstrong is spending lockdown in Edinburgh, Scotland with his girlfriend and admitted he found it strange returning home. He is used always being on the move and, although he's enjoying his time north of the border, the 28-year-old admits he can't wait to be reunited with his teammates.
Stuart Armstrong said "It's strange because I'm not used to being home for a sustained period," Armstrong reflected. "This is probably the longest I've been in one place at one time in years. It's nice being home with my girlfriend and being close to my family because home is home. Having said that, I am missing the south coast and the boys, so I'm looking forward to getting back to training as quickly as possible. Daily Routine usually involves some sort of physical exercise which we have to do that day. They have taken care of us as players and have given us a routine. Aside from that, I've tried keeping myself busy by reading and watching Netflix – and the odd bit of DIY here and there. I've been watching a bit of the Sunderland series and it's interesting how another club operates from the side of the board in that aspect. I'm pining for football, so you want a bit of a fix and it keeps me entertained. It's quite sunny here, too, so we are making the most of that in the garden."