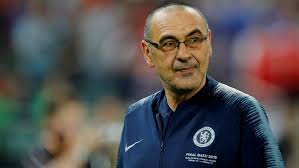 Maurizio Sarri has lifted the lid on his tear-filled goodbye to Chelsea's players after he decided to leave the Premier League after a single season. The former Napoli tactician admitted to having a "conflictual" but "strong" relationship with the Chelsea squad.
Maurizio Sarri  said "I had a conflictual relationship in the Chelsea locker room for 4-5 months, then when I told them that I would go after the Europa League, I cried, and many of them did the same. In the end, a strong relationship had been created. I am someone who, if you do badly, will say it to your face, but will also say 'bravo' if you do well. Maybe I talk more about what they do wrong than what they do well, and maybe they pay for this in the beginning. Then they understand you and appreciate it."
Sarri was a popular choice to succeed Antonio Conte, but despite leading the Blues to Europa League success and a respectable third place finish in the Premier League, he chose to depart for Juventus.