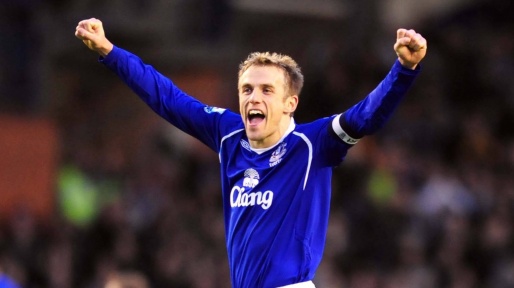 How often have we seen same blood siblings change the course of the world? Look at the Wright Brothers. Their combined genius gave shape to an airplane: a modern invention that transports a million passengers a day. Look at the Kennedy siblings. The story of the Kennedy clan has undoubtedly had a mammoth influence on world history. While there have been siblings in Science, Politics and Entertainment industry who have made a name for themselves, Sports remains no exception.
In modern football the duos of Eden Hazard and Thorgan Hazard, Jerome and Kevin Prince Boateng have earned fame and recognition. Before the 2000's, Michael and Brian Laudrup, Bobby and Jack Charlton displayed immense talent and achieved astonishing things in football. Another such pair is of Gary and Phil Neville. Both brothers were part of Fergie's Fledglings.
Gary might be the elder one but it was Phil Neville who was always considered to the better player.
Now, Phil Neville might not have a career that matches the likes of some of his teammates like Paul Scholes, Rio Ferdinand or David Beckham but he was an integral part of the squad that accomplished dizzying heights in the Premier League.
---
Where it all began..
Phil Neville along with his elder brother Gary had developed a liking from football at a very early age. With Phil admitting in the past that since Gary was the one who loved to play, he had no choice but to accompany the elder sibling. Soon he too got attracted to the game and trained in order to get into the school team. The young Englishman attended the Elton high school and captained the football team for five years. In 1990, he signed with the Manchester United academy and quickly integrated himself into the youth set up. The versatile youngster could play at right back as well as operate as a right side midfielder. The versatility helped him get recognized by coaches and he continued to rise through the ranks.
The season of 1994-95 saw him make his first team debut against Wrexham AFC in the FA Cup. His Premier League debut came against city rivals Manchester City where the Red Devils managed a comfortable 3-0 win. He was quickly dubbed as one of the "Fergie's Fledglings" as the youngster was one of the many players who were being nurtured by Sir Alex Ferguson.
The next season began in a disastrous fashion which saw Manchester United humiliated by Aston Villa at the Villa Park in the opening game of the Premier League. Sir Alex's men lost 3-1 and the manager's plan to field youngsters was heavily scrutinized. Phil Neville was to blame for the second Villa goal as Brian Little's swinging cross from the left flank was deflected by Neville beyond the back post. The Red Devils very swiftly recovered from that early season shocker and went onto win the Premier League. The 19 year old too managed to catch his rhythm and made 24 outings that season. Neville tasted first piece of silverware in the campaign as the team won the league and the historic FA Cup.
---
A legendary career..
Over the next season Phil Neville proved to be an asset that could be deployed in numerous positions. Right back, Left back, Midfield, literally anywhere. Sir Alex used him as a left back in the initial seasons but also tried him as a right back. The Scotsman saw something peculiar in Phil's exploits at right back. Phil's attacking ease echoed by Lee Sharpe at left-back, added to United's ominous momentum. Still a youngster, the majority of the 1996-97 campaign was spent playing as a deputy to Denis Irwin.
On 5thMay 1997, Sir Alex managed to win the Premier League crown once again. He had rebuilt Manchester United in a way that would have made the late Sir Matt Busby proud and turned the club into the envy of English football. Gary and Phil Neville, Nicky Butt, Paul Scholes and David Beckham have emphatically shown that you can win something with kids. This was Phil's second league medal in three years. The monster of Fame has swallowed so many of the most talented players and spit out their bones in the form of disillusioned careers. The young Neville was entering that phase of life where one wrong step would result in instant rupture. Now was not the time to sit back and feed on the stardom and bonuses but to strive further.
The beginning of the 1997-98 season was unfortunate as Phil was sidelined due to an ankle ligament injury for weeks. A series of injuries to other players saw Manchester United make a slow start to their campaign.  Neville spent majority of the time on sidelines during this campaign as recurring injuries took toll on the player as well as on the team.
However, with the change of the year, Phil's fortunes also changed as he was able to put his injury woes to the bed and have a longer run of games. The Englishman's debut goal finally arrived in the league against Chelsea, a rare goal that saw the end of the Blues' title challenge.  He earned a lot of praise and was being regarded as a midfielder that can also experiment at the international level.  The season ended on bitter terms as United failed to win the league despite establishing dominance very early. United lost the title to Arsenal by one point and ended their campaign trophy less after early exits from the cups.
For every Manchester United fan, the 1998-99 season holds a special place in the heart, the team's fantastic all round campaign that saw them win the Treble. As the team cantered to the titles, Phil Neville put in a hard working shift throughout the campaign. He also scored a rare goal in the group stage of the UEFA Champions League Brondby IF. In the 1999 Champions League final, Phil Neville remained on the bench as his brother Gary started ahead of him.
In the next few seasons, Phil managed to get a more prominent role despite being a bits and pieces player. During his time at Manchester United, Phil Neville became one of the most vilified footballers often making clumsy fouls and plunging himself into rash challenges. In fact in 2002-03 season he managed to accumulate 13 yellow cards, more than any other Manchester United player. The FA had to give a warning to Neville regarding his behavior on the pitch.
Neville had to face some competition at the club from Denis Irwin, who regularly filled the left-back role, particularly until the early 2000′s. But Neville proved himself to be a player of bits and pieces, filling in at various positions and making himself useful to the manager. He had already won 6 Premier League titles, three FA Cups and an unforgettable UEFA Champions League by the time Neville made his move to Everton at age 28.
In August 2005, Phil Neville made a surprising move to Everton for a fee in the region of£3.5 million on a five year deal. His Everton debut was against a tough Villarreal in the UEFA Champions League qualifier. However, the toughest test was yet to come. He was set to face Manchester United in the Premier League to mark his debut in an Everton shirt in the Premier League. However, the 28 year old warned Manchester United that sentimentality will go out of the window if he makes his Premiership debut for Everton against the Red Devils. The utility player walked out of Old Trafford after 11 years and embarked upon a new journey under another Scotsman, David Moyes. This was moment where younger brother Phil would face the elder brother Gary in a professional match. The match ended in elder sibling's favour as Manchester United won 2-0. The Englishman went onto make 43 appearances throughout that season managing to become a vital part of the team.
Neville's approach, work rate and ability to play anywhere saw him becoming one of the favorites of manager David Moyes. Citing his willingness to mould himself according to the team, Moyes appointed Neville as the vice captain of the club in 2006. The connection of brothers went far beyond club rivalries as they both became the first pair of brothers to captain their respective sides when Everton faced the Red Devils in 2006.
While Neville had already been criticized in the past for his gauche challenges, he never had received a red card in his United career.
In a game against Fulham, Phil Neville received the first red card of his career and was very cynical about the card after the game. He went onto say that he wouldn't have received the red card if he had been a Manchester United player.
Merseyside derbies are always fierce, competitive despite the recent history suggesting Liverpool's unquestioned dominance over dreamy neighbors. Tempers flaring, rash challenges, ugly fights are crux of a feisty Merseyside derby. Players often lose their cool and commit things in the heat of the moment but seldom are they on the receiving end. Phil Neville got into a brawl with a Liverpool fan and was assaulted by the Reds supporter in Everton's 1-0 loss at Anfield in 2008.
With each passing season, David Moyes and Phil's efforts to bring Everton in the sight of Champions League was becoming a reality. The Toffees finished fifth in the 2007-08 season with 65 points falling agonizingly short of Liverpool's tally of 76 points as the Reds scooped the last Champions League spot.
In 2009, Neville put his love for the former club at bay and scored the winning penalty in the penalty shoot-out to knock Manchester United out of the FA Cup.
With age his contributions started to decrease as younger and more adept players started to get more chances. With each passing season, Everton's dream of making into top four became distant and Phil Neville too became occasional starter.  He finally decided to hang up his boots at the end of his contract playing his last game in the FA Cup against Wigan Athletic. He had amassed 303 appearances for the Toffees since making the transfer in 2005.
---
What was Phil Neville footballer like…
While some players can only produce maximum output playing in certain positions, there are a set of players that are malleable and adjust to any position given to them. The term "playing out of position" is null and void in their dictionaries as they simply adapt to the surroundings and coaches' instructions. Phil Neville belongs to that category.
Phil Neville simply cannot be defined by a single position on the football field. He could operate as a full back, right back, left back or anywhere across midfield. In fact he also operated as a winger in certain phases of his United career. Now when you are to make a switch from a full back to a midfielder there are a lot of challenges you need to overcome.
The very first thing is to alter the body shape and body position. As a full back you are programmed to be virtually at 90 degrees with everything happening in the front. But in while playing in the central midfield, Phil had to adjust himself and open up to 180 degrees. He did it without much complications or hesitations. He often faced competition at the left back role from Denis Irwin and brother Gary at right back at Old Trafford. While playing in the central midfield, his passing attributes and vision were widely appreciated. Till date he is remembered as a bits and pieces player who used to put out shifts from time to time and gain prominence.
---
What are the moments we remember Phil Neville for…
A dream that became a reality
While playing football in the backyard of his Bury home with elder brother Gary, Phil Neville never imagined that both of them will be able to reach the "Theatre of Dreams". The dream finally came true when he signed for the youth academy and finally made his first team debut in 1994 and play alongside the elder Neville. The brothers went onto play for the Red Devils till 2005 as Phil made a move to Everton. Throughout Phil's career there had been numerous instances where he had been subbed on for his brother Gary.
Debut Goal meant Chelsea's title hopes are dead
In 1998, Phil Neville broke his goal duck to kill Chelsea's title tilt stone dead. The England defender was handed an unfamiliar central midfield role as Alex Ferguson made five changes from the side knocked out of the FA Cup in midweek.
Neville had never scored a senior goal in his career before today, snatching at the few opportunities he had been presented with. But when superb interplay involving Denis Irwin, Teddy Sheringham and Andy Cole sent the 21-year-old through on Dmitri Kharine just after the half-hour of a frantic and bad-tempered clash, he made no mistake to put his side 12 points clear at the top.
A New chapter at Goodison
In 2005, Phil made a huge decision to move out of his boyhood club, leave his brother Gary and make a switch to Everton. On his presentation, Phil admitted that leaving Manchester United was one of the hardest decisions he has had to make in his life but was very excited to start a new chapter at Everton. The deal was considered to be in the region of £3.5 million with Neville tying his future to the Merseyside club for five years. His Premier league debut for Everton came against Manchester United, a very emotionally demanding game for the Nevilles as they faced each other professionally for the first time in their life
Bye Bye Manchester United
Late in Phil's Everton career, he crushed a thousand Manchester United hearts when his penalty knocked the Red Devils out of the FA Cup semifinal.
In 2009, after nervy 120 minutes of football in the FA Cup semifinal at Wembley, the score between Everton and Manchester United was 0-0. Phil Neville scored his penalty in the shoot-out to end Manchester United's hopes of reaching the final.
Even though the Toffees lost the final to Chelsea, Phil's penalty in the semi-final is widely remembered due to the fact that it was against the Red Devils, his former employers.
The taste of blood in the Merseyside derby  
In 2008, during the Merseyside derby at Anfield, Phil Neville got a taste of the aggressiveness of the Merseyside derby. Usually brawls on the field are very common but Phil Neville was involved in off the field assault. Phil Neville was spat at and punched by Liverpool fans. Neville was also allegedly spat on and subjected to vicious verbal abuse, allegedly because of his spell at rivals Man United. Later the fan was recognized and was handed a three year football ban for punching the Everton captain.
---
Where is Phil Neville currently ( March 2020 )…
During his final Everton days, he managed to get a FIFA Pro coaching license and was also given special permissions to help England U-21 coaching staff for the U-21 Euro Championships. In February 2013, Neville was considered for the role of a coach for the U-20 side but the job instead went to Roberto Martinez. However, in July 2013, Neville assumed the charge of the first team coach of Manchester United reuniting with David Moyes. The Class of 1992 involving the Neville brothers, Nicky Butt, Ryan Giggs and Paul Scholes purchased Salford City in 2014.
Phil Neville in 2014 joined Valencia as a coach under Nuno Espirito Santo and upon Santo's resignation; he assumed temporary charge of the assistant to Voro.
In 2018, Phil was announced as the England women's team manager and guided them to a bronze medal at the 2019 World Cup.
The Englishman has been seen as a pundit on various TV Shows and often did commentaries on BBC and Sky. After leaving Valencia in 206, he was signed up by Sky as a pundit along with Gary Neville.
---
How other premier league professionals view 

Phil Neville

…
David Moyes said "Phil Neville could be on the road to one day, maybe, becoming the England manager. I know him closely. He was a great captain, a great leader. He's had great experience."
---
What does Phil Neville say about Phil Neville…
"There has always been an inner self-motivation for me. Mine goes back to my United days of us against the world and proving everyone wrong."

"I had a good football intelligence. I didn't need 10 games to get used to a position. I could go out and do a job."

"I do my best thinking when I'm out running. When I'm out in the hills around Manchester, that's when my head clears. That's when I think about the things I'm going to say to my players in the biggest moments."

"I wanted a new experience, to learn another language. I wanted to be different. I wanted people to realise I'm taking my coaching career very seriously. I wanted to create my own pathway."

"The most important thing is to be successful on the field. Being second in the world is an unbelievable achievement. But for me, as a coach, you want to be the best – you get nothing for being second. We want to be the best in our field."

"My passion is coaching, and I see myself more as a head coach with a more continental approach, in charge of football, running the training programme, the players."

"From facing a manager for the past 16 years to suddenly being the one person everyone is looking at is a daunting prospect. It's something I want to be prepared for. If I get the opportunity, I don't want to let myself down."
---
Phil Neville trivia..
Phil Neville is one of the only 13 players to have managed to play over 500 top flight games in their Premier League career. The Englishman totaled 505 appearances in 18 years of professional football.

He has a whole clutch of honours, including the 1999 Intercontinental Cup, the UEFA Champions League winner the same year, three times holder of the Community Shield and the FA Cup and six times champion of the English Premier League. However, every trophy and medal has come as a Manchester United player.

Despite coming close to winning a domestic cup on numerous occasions with Everton, Phil failed to win a single honour with Everton. 

Phil Neville also has a twin sister, Tracey Neville, who currently is the head coach of the England netball team.

Neville's daughter Isabella suffers from cerebral palsy and Phil has become the ambassador of Bliss, a special care baby charity, where he regularly contributes.

He was widely criticised and came under fire post England's third placed match in the 2019 FIFA Women's World Cup as he called the bronze medal match a "nonsense game".  
---
Phil Neville stats , what you can find on Wiki ( and other sites )…
| | | | | | | | | | |
| --- | --- | --- | --- | --- | --- | --- | --- | --- | --- |
| Teams | Season | Age | Played | Started | Minutes | Goals | Assists | Yellow Cards | Red Cards |
| Everton | 2012-2013 | 35 | 18 | 18 | 1546 | 0 | 1 | 4 | 0 |
| Everton | 2011-2012 | 34 | 27 | 24 | 2060 | 0 | 0 | 3 | 0 |
| Everton | 2010-2011 | 33 | 31 | 31 | 2657 | 1 | 0 | 5 | 0 |
| Everton | 2009-2010 | 32 | 23 | 22 | 1954 | 0 | 0 | 1 | 0 |
| Everton | 2008-2009 | 31 | 37 | 36 | 3227 | 0 | 3 | 4 | 0 |
| Everton | 2007-2008 | 30 | 37 | 37 | 3238 | 2 | 1 | 4 | 1 |
| Everton | 2006-2007 | 29 | 35 | 35 | 3113 | 1 | 4 | 7 | 0 |
| Everton | 2005-2006 | 28 | 34 | 34 | 3038 | 0 | 0 | 12 | 2 |
| Manchester United | 2004-2005 | 27 | 19 | 12 | 1069 | 0 | 0 | 3 | 0 |
| Manchester United | 2003-2004 | 26 | 31 | 29 | 2511 | 0 | 1 | 5 | 0 |
| Manchester United | 2002-2003 | 25 | 25 | 19 | 1668 | 1 | 2 | 7 | 0 |
| Manchester United | 2001-2002 | 24 | 28 | 21 | 1947 | 2 | 1 | 4 | 0 |
| Manchester United | 2000-2001 | 23 | 29 | 24 | 2185 | 1 | 0 | 4 | 0 |
| Manchester United | 1999-2000 | 22 | 29 | 25 | 2281 | 0 | 3 | 4 | 0 |
| Manchester United | 1998-1999 | 21 | 28 | 19 | 1797 | 0 | 2 | 4 | 0 |
| Manchester United | 1997-1998 | 20 | 30 | 24 | 2204 | 1 | 1 | 8 | 0 |
| Manchester United | 1996-1997 | 19 | 18 | 15 | 1368 | 0 | 0 | 3 | 0 |
| Manchester United | 1995-1996 | 18 | 24 | 21 | 1814 | 0 | 1 | 2 | 0 |
| Manchester United | 1994-1995 | 17 | 4 | 2 | 299 | 0 | 0 | 0 | 0 |
---
Phil Neville Recent Posts
[pt_view id="b0a45bb0fu" tag="Phil-Neville-Player"]
---
Phil Neville Tweets