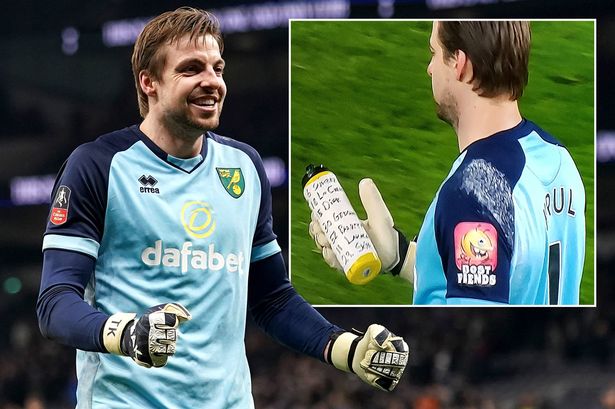 As Daniel Farke's side beat Tottenham Hotspur on penalties in the fifth round of the FA Cup on Wednesday evening. The City Head Coach was of course in high spirits after the game, delighted that he and his team had created an occasion for the Canaries to cherish for years to come.
Daniel Farke said "I can't guarantee whether we will stay in the league, I can't guarantee that we will win the FA Cup, but one thing is for sure – by doing this on our way we have created memories. All our supporters will remember this evening in decades. We started playing football not to think about the league table, but to create memories, so I'm delighted we were able to create such a fantastic night. I'm pretty happy for our fans and pretty delighted for everyone who is connected with Norwich City. I'm happy with my lads today because we created a fantastic evening performance-wise. It's our biggest success in the FA Cup for nearly 30 years. It was a fantastic moment because we're playing in the middle of the week, sitting at the bottom of the league table, so to have this support – and we could have sold even more tickets – this club has such a unity and spirit. The lads deserve it. Everyone who works for this club and represents this club deserve it. We have such a spirit in this dressing room and this club that we deserve evenings like this, so I'm delighted tonight." 
Norwich City will face either Derby County or Manchester United depending upon the result of their match in the last eight of the FA cup.
---
Ralf Fahrmann is poised to cut short his miserable stint at Norwich City to seal a loan move to SK Brann. The Schalke 04 stopper travelled to Norway earlier this week after Daniel Farke had confirmed he would not be involved in the FA Cup or Premier League battles over the coming days for 'personal reasons'.
Daniel Farke said "I don't want to speculate," I said he was out this week and what I can confirm is we allowed him to speak with other clubs. This is happening at this moment. I have been focused on this cup game so we'll see what the outcome is. But we have allowed him to have talks with other clubs."
Fahrmann could complete his potential loan switch before Saturday's Premier League trip to Sheffield United. Fahrmann had joined the club on loan earlier this season but has only featured for the club three times this season so far.
---
​Norwich City's FA Cup hero Tim Krul has admitted that he was playing with Tottenham players' psychology and it especially worked with Spurs youngster Troy Parrot.
Tim Krul said "It's hard work, homework. Most of them were right. To be honest, I started mixing up the players a little bit because I thought Gedson (Fernandes) was taking two penalties at one stage. I prepared before the game with clips and even before the shoot-out I did some homework. The moment was there – Lamela changed his usual side but luckily enough he hit it over the crossbar, For me personally, I look at the player. Who's confident and who's not, The young lad, Parrott, I played a little bit with his head. I said 'I haven't seen many penalties from you when I've done my homework' and he just looked at me. This is when you have to forget about everything and just go back to what I know and what I've learnt with my experience from Brazil to wait on the line and react to the shot. This club, these fans, deserve something to shout about and to have a home game in the quarter-final of the FA Cup, what an amazing fixture that will be."
Todd Cantwell, Marco Stiepermann and Adam Idah converted for City, but it was Krul who grabbed the headlines after two spot-kick saves. He had prepared meticulously for the penalties and even had names of the Tottenham players and which side they prefer to take penalties written on a water bottle during the match.