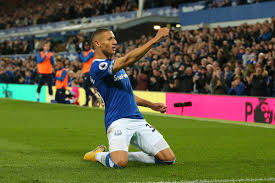 Everton manager Carlo Ancelotti has ordered his backroom staff to improve their English and adapt to life in the English premier league as quickly as possible.
Carlo Ancelotti said "I brought here an assistant, my son, a video analyst, I brought here three physical trainers and a head of performance who works on the recovery of the players. Six people. I won't add more. I am really happy because we are working well together with the other staff who were here before. We don't have problems, just a few of my staff are not speaking English properly but I force them to speak English, to learn English. Everything is OK until now. "
The Italian brought his Son, David as assistant Manager and his son in law, Mono Fulco as head of performance at Everton when replacing Marco Silva in December. He also brought fitness coach, Francesco Mauri, analyst Simeone Montanaro and kept Duncan Ferguson and goal keeping coach Alan Kelly to the setup.
---
Everton centre back Mason Holgate is pleasantly surprised how quickly Andre Gomes has come back on to the pitch after the horrific injury he suffered but he is also happy with his team mate's contribution on the pitch and feels that Gomes's return has added quality to Everton midfield.
Mason Holgate said "You can see Andre's class. He's definately surprised me, just how fast he has come back. Not only to come back but he looks like he's not been away. He is flying into things. You see people come back from injuries like that and they might change their games a little bit to begin with. But he's come back straight away and had a really good influence."
Gomes was injured in November when an innocuous challenge from Son Heung Min of Tottenham where he sustained a serious ankle injury and had to be carried off on a stretcher from the ground.
---
Everton left-back Leighton Baines spoke about the pros and cons of getting older as a footballer after the 34-year-old put in a fantastic performance against Manchester United.
Leighton Baines said "ou get to an age where nature is going to take its toll and that's natural. It can be hard, that. Because you work harder to maybe be a little bit less physically than what you once were. That willingness to work harder comes from wanting to be healthy, but also understanding the responsibility of the job. And it's worth it. In short, it's what you've agreed to do when you sign a contract. And like a lot of things in life, you may lose something, but you gain something else in so many ways. Your awareness of what is needed from you on a football pitch is better. The more time you spend doing something and being around it, the more you know."
Baines has been a long-serving player for the Merseyside club and he was linked heavily with Manchester United after David Moyes had taken reigns at Old Trafford but the move never materialised.
---
Everton forward Richarlison has opened up about his fitness work and areas he has improved on after coming to Everton and how he has adapted to the English game overall.
Richalison said "The guys there want to be strong. I soon realised how intense the game is, how important the physique is. But what I really invest in is gaining agility. Some defenders have a hard waist, so I can't lose agility to beat them. What I improved the most was the heading. And the tactical requirement is great. We study the opponents a lot. If the attacker leaves space, doesn't defend, it's a goal. I'm not afraid of anything on the pitch. I do what I love. Fear, I just have of an injury. The difficulty was the cold. "
Richarlison came to Watford initially and had joined Everton after a very controversial transfer where Marco Silva who had been the Watford manager previously was accused of tapping up the player to sign for Everton. After a difficult start at Goodison Park, Richarlison has scored 12 goals in 30 games this season.