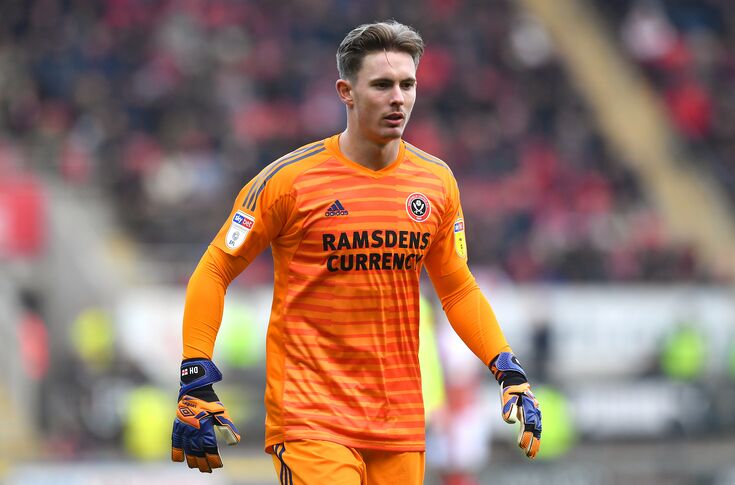 Dean Henderson has reiterated that filling the No.1 spot at Manchester United is his "big dream", with the Sheffield United loanee determined to take David de Gea's job. It could be that he heads back to Old Trafford this summer and seeks to oust the Spanish shot-stopper from the most demanding of roles.
Dean Henderson said "The big dream is to play for Manchester United one day. I've always had that dream throughout my life so until that's accomplished I'll never think I've made it. Even if I play for them once I won't think I've made it. I need to play for them 500 times, 300 times, whatever it is, then you can turnaround at the end of your career and say, 'I made it, I did what I set out to do'."
Dean Henderson also has his eye on Jordan Pickford's place in the senior England squad, with the former Under-21 star looking to make a step up the international ladder.
---
Chris Wilder has admitted that he will be looking to tie down Sheffield United mainstays but will not stand in way of players who want to leave.
Chris Wilder  said "If I had any feeling the players saw their futures elsewhere, I wouldn't want them to stay against their wishes. I'm always aware there are bigger clubs than us from a financial point of view [and] from a stature point of view that I can't stand in their way. These boys have only been in the division for a year so their thought process should be first and foremost to get in the side and stay in the side, not look elsewhere about what might happen. A few have international aspirations in terms of John Egan and Enda coming up, Flecky as well. They have to get in my side and stay there. The competition for places is fierce and their thought process should be: 'Am I playing Saturday?' Not what's round the corner. We wanted to get the players in, but now the focus moves onto those players [negotiating contracts]"
The Blades could move into fifth place should they defeat Bournemouth on Sunday, are negotiating new deals with John Lundstram, Enda Stevens, John Egan and John Fleck. Chris Wilder has also brought in Sander Berge, Richairo Zivkovic and Panagiotis Retsos to add competition for places, which will soften the blow if he loses players.
---
Chris Wilder has revealed he would have preferred to play through Sheffield United's winter break.
Chris Wilder said  "I'd have liked to have carried on. I know that may be controversial and that there's been different views on it. And the game has changed, I understand that. But it is the challenge to overcome nine months, through different conditions and hurdles and situations. The majority of clubs will be training, some will give days off, but for me, I could have done without it and I think we should have gone straight through. The fans are not going off on holiday and they are the ones that keep the division going. It might go against other opinions on that but I'd have no issues with going through. It's a testing 38-game season, offering different tests we have to overcome. We're going to Dubai but it's not a jolly-up. They will get rest and recovery but will train as well, then we're back into preparation for the Brighton game."
The Blades have a 13-day break after Sunday's game against AFC Bournemouth, with their next game not being played until February 22 when they face Brighton at Bramall Lane.