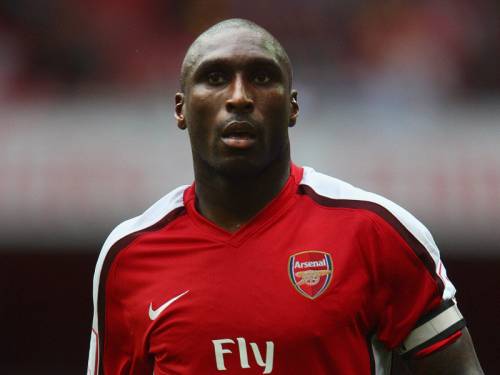 The English Premier League is fierce and an unforgiving animal. It is not for everyone and history supports that notion. You might be one of the best skilled players, you might be a Champions League winner, you might be a veteran in your art but these accomplishments wouldn't make you a successful Premier League player. Look at Angel Di Maria for instance, look at Bastian Schweinsteiger, look at Deco, look at Andriy Shecvchenko. All of these players will attest the above theory.
Premier League is harsh, you need sublime skills along with certain degree of physicality to support your act. Every team needs players who muscle through the opposition, bully their opponents and act as a wall, getting past them isn't easy. One such example is Sol Campbell. The 6 feet 2 inch defender has guarded the defence of Tottenham Hotspur, Arsenal, Portsmouth and Newcastle United for years.
Sol Campbell wasn't the most technically sought player yet his brute force and burly structure made amends for him. A centre back by trade, he's played as a right back, left back and even a wing back. However, he started his career as a striker. He did commit a football treachery that Spurs fans will never forgive.  Let's look at journey of a mighty monster that held the defence of some of the biggest Premier League teams for years.
---
Where it all began…
Sol Campbell began his career at West Ham United playing in the youth teams. Initially a striker he was quick to rise up the ranks however a racist comment towards him by Hammers youth coach put him off and the 13 year old left their program. After the entire episode, Campbell's career path reached the doorstep of Tottenham Hotspur.
Aged 14, the oversized teenager joined Spurs youth team with then youth coach Keith Waldon selecting him because of his insane physicality rather than technicality. After spending nearly three years in the youth teams, Campbell was promoted to the first team. His debut arrived against city rivals Chelsea where he came on as a substitute for Nick Barmby. In 22 minutes, he managed to score a goal but his debut ended in bittersweet memory as Spurs lost 2-1. Despite an impressive debut, he didn't feature again for Tottenham in the season.
The next few seasons can be regarded as the polishing seasons as he was tried as a left back and a right back. Whenever he stepped onto the pitch he made sure that he gave it all. He continued to develop into a fine centre back but couldn't help the North Londoners achieve more than mediocre mid table finishes.
---
A Legendary Career…
Manager Gerry Francis, mesmerized with Campbell's performances, made him the captain of the club in 1996-97 season. However, the captaincy led to performance pressure and Campbell's performances took a hit. Under his captaincy, Spurs managed to win a major piece of silverware, the Football League cup in 1998-99 season. The league cup success earned them a place in the UEFA Cup but Tottenham could only manage to reach the second round. Campbell had become a decisive piece in Spurs team who could neutralize the opposition threat by his physical nature alone.
The 1999-2000 campaign was supposed to be stepping stone to more success after the League cup victory last season, but certain moments, poor showings on the field and lack of team integration lead team to more bog standard finishes. Sol Campbell was involved in a court case as he was accused of supposedly getting involved in a brawl with a steward after a game against Derby County. Spurs refused to hire a lawyer for him and was subsequently told to hire his own legal defence.
This was not the first time he had an incident with the Spurs hierarchy. The centre back had poor relationships with the coaches in the past; his captaincy was always a topic of debate. This coupled with Tottenham's lackluster performances on the pitch, left Campbell hurt, dissatisfied and cynical about the club. This was the first moment where Campbell thought of moving away from the club.
In summer 2001, Campbell's deal with Spurs expired and despite Tottenham offering him a new contract that would have made him the highest paid player at the club and several high profile calls to Campbell, he decided to not stay at White Hart Lane. Campbell stated that his reason to leave was to play Champions League football that Spurs would not be able to offer.
While he was linked to clubs in Italy and Spain, Sol Campbell shocked everyone by signing for Tottenham Hotspur's biggest rival: Arsenal. He's till date hated by the Spurs faithful for switching to Gunners on a free transfer. This is how he earned the title: Judas of Tottenham Hotspur.
After committing football treason, the Englishman made his Arsenal debut against Middlesbrough. At Spurs, different coaches tried him at different positions, never fully making use of his abilities but Arsene Wenger was different. "You can judge an artist by the quality of his art". Wenger knew that Campbell is to be played as a centre back and nowhere else. He is rock solid, astute and for once can make Arsenal forget about their defensive shortcomings.
Sol's move to Emirates proved to be a big win-win as immediate success kissed his boots. The 28 year old featured in 31 of the 38 league matches, helping the side win the Premier League. Gunners also managed to complete the double, winning the FA Cup against London rivals Chelsea. People could sense that something big is on the cards. Arsenal's squad featuring Thierry Henry, Robert Pires, Patrick Vieira, Sol Campbell were preparing for the greatest year of their lives. Arsenal achieved something that no club has been able to achieve till date, going unbeaten in the entire league campaign.
While praises are lauded to Henry, Vieira, Dennis Bergkamp for their immense contributions for Arsenal's famous Invincible season, Sol Campbell remains underrated. He formed a solid partnership with Kolo Toure, giving much needed physical presence and stability at the back.
The following season, Campbell was astonishingly sidelined by Wenger, as he preferred Philippe Sendaros to partner with Toure. Campbell was unhappy as he became a second choice in Wenger's eyes without any explanation. This was the moment where Campbell's life at Arsenal started to go downhill. He got involved in off field antics and his form started to diminish.
The next season was a season to forget for Campbell. Campbell went to Euro 2004 in Portugal and came back as a melancholic veteran toiling with the abrupt mortality of a sportsman's talent. He looked a lost cause as he suffered an injury plagued season and lost will to play. Once a proven hotshot in defence had now become an unreliable novice whose errors cost Arsenal games. One of the notable incidents was against West Ham United where Campbell was responsible for Hammers' first two goals. With 2-0 down at halftime largely due to his defensive mistakes, Campbell requested to be subbed off. The Englishman didn't wait for full time and left the stadium. It was later revealed that Sol ws having a major issue in his life and spent following weeks in Brussels to get some clarity in his life.
He came back as a reenergized player and played a crucial part in Arsenal's toad to the UEFA Champions League final, which was to be played against Barcelona. At Stade de France, Campbell scored the opening goal, a splendid header from Henry's cross that gave Gunners the lead in the final. However, the Blaugrana came back from behind to win the cup but Campbell was lauded for his valiant efforts. This later proved to be the final match for the defender as he decided to leave Arsenal in order to seek a new challenge.
Despite being confronted by Juventus and Fenerbache, Campbell joined Portsmouth in August 2006. His impact was instantly lauded for his steely performances and following a successful personal campaign, manager decided to hand him the captain's armband.
Under his captaincy, Portsmouth miraculously won the FA Cup against Cardiff City in the final ensuring their qualification in UEFA Cup first round. However, the next season was a reality check as Portsmouth's dreams crashed due to dire financial troubles. Campbell, showed class and like a gentleman stayed with the Pompey's during the times of crisis and helped them beat relegation.
In 2009, League two side Notts County's ownership were a subject of takeover by a Middle Eastern company who wanted to revolutionize the club and take them to the Premier League. Coach Sven Goran Eriksson was appointed as the director of football for the team which catalyzed Sol's decision to sign for Notts County. However, he terminated his contract, three days after making his debut as he felt he was mugged by showing false ideas about how the club wanted to transform into a major power house. A return to Arsenal was touted as he started training with the Gunners in October 2009. In the January transfer window, he re-signed a six month deal and played a crucial role by covering up for injured Thomas Vermaelen and William Gallas.
In 2010, aged 36, signed a one year contract with Newcastle United. His Premier League debut for Magpies came against Manchester City as he came as a substitute for Fabio Coloccini and in the process became the second player to play in 19 consecutive English Top flight seasons after Ryan Giggs.
Substitute appearances, once in a blue moon starts continued for Campbell, who had accepted a "bits and pieces" role under Alan Pardrew. In May 2011, Newcastle decided not to extend Campbell's contract and curtains finally drew when Sol announced his retirement in 2012.
---
What was Sol Campbell footballer like…
Nowadays, a defender needs to know more art than just defending. He has to be good at playing the ball, player with excellent ball distribution and passing skills. Managers in modern football demand the centre backs who can thread over the head passes, play accurate long balls and cover a big area of the pitch. Look at Pep Guardiola's teams, his centre backs are supposed to push really high up the pitch, play precise passes and often imitate the attack.
Sol Campbell was a slightly different breed. His technical nous never made much headlines but his imposing build did. His athletic nature and strong body gave him an advantage to rustle his opponent. The Englishman was always known as a strong tackler who was very accurate in launching tackles to regain the ball or dispossess the opponent.
His aggressive nature worked well in his favour and his robust body allowed him to school wingers and forwards in air. His aerial threat must be recognized as well, as he was always a trusted man in winning headers and also offensively scoring from dead ball situations. While Campbell can boast his versatility to play as right back or a left back or in centre, he was best suited for a centre back role. The former England international was good at driving the ball ahead but was often criticized for his poor ball distribution. All in all, Campbell was a concrete centre back whose physical skills alone covered up for his deficiencies in other departments.
---
What are the moments we remember Sol Campbell  for…
Judas of Tottenham Hotspur
Arsenal and Tottenham share a fierce rivalry when it comes to being the best club in North London. Despite Arsenal's accomplishments in the last decade, Spurs are always on the look out to get the better of Gunners.
Sol Campbell, a player who was nurtured and refined in the Spurs academy, played nine prime years at White Hart Lane, committed football treachery when he switched to Gunners on a free transfer. Tottenham fans felt betrayed, anguished and miffed to see one of their star players join city rivals.
According to all four canonical gospels, in the Garden of Gethsemane, Judas betrayed Jesus to the Sanhedrin by kissing him and addressing him as a "rabbi" to reveal his identity to the crowd that had come to arrest him.  Since then, the name Judas is often used as a synonym for signifying betrayal. The Spurs faithful have labeled Campbell as the "Judas of Tottenham Hotspur".
Mr Invincible
Arsenal's invincible season is arguably the club's best moment in the club's 134 year history and Campbell played a crucial role in their unbeaten title win. To be the part of Arsene Wenger's squad that went 49 league games unbeaten will be the greatest achievement in Campbell's career. This might be the biggest feat for Arsenal and the club shouldn't forget that their successful season was built on a rock soild defence.
The 2003-04 Premier League saw Wenger's troops concede just 26 goals, a commendable feat. They won the title at the home of Tottenham Hotspur, where Campbell has a deep history. The centre back surely knows how to rub it in.
An almost UEFA Champions League winner
Sol Campbell could have rounded off a perfect five years at Arsenal by helping them win UEFA Champions League in Paris in 2006. Arsenal faced the mighty Barcelona in the finale and Campbell gave a dream start to the Gunners by heading in the first goal of the game and in the process giving his side the lead.
The North London side looked to be close to victory as they lead the game with 15 minutes to play and Sol would be the heartbeat of the win but Frank Rijkaard's Barca had other plans. Within a space of five minutes, Barcelona struck twice to take the lead to crush the Arsenal hearts. Nonetheless, Sol Campbell remains one of six Englishmen to score in the Champions League final.
Campbell and Notts County: A short story 
A controversial decision to sign for a League two side during the final stages of his career is still considered to be shocking and left many of his fans bemused of his action.
The centre back's affair with Notts county lasted just 24 days as Sol Campbell mutually terminated his contract with the League two side after initially signing a five year deal.
The Englishman feels he was misdirected and disillusioned in believing that the club is supported with huge financial backing and the owners were serious about taking the team to the top flight.
Hammered Home
Post 2004 Euros, Campbell was lost, he wasn't simply the player he used to be. Blighted by injuries and poor form, his on field performances took a toll on his off the field life as well. On February 1, 2006, he was simply shambolic against West Ham at Emirates.
Sol Campbell was largely responsible for making errors that lead to two Hammers goals. He was simply shambolic throughout the first half and requested Wenger to take him off during the half time. Post the half time substitution, he left the ground, and then the country as he didn't return to training for next four days.
Campbell's disappearing act at half time against West Ham remains one of the more sadder mysteries of his footballing career.
---
Where is Sol Campbell  currently ( January 2020 )…
After cameos in TV punditry and Politics, Campbell decided to try his hand at team management. Sol Campbell currently manages League One side Southend United, who currently struggle in the second last spot in the league. Under Sol's tutelage, Southend have only managed to win 2 games in 14 matches.
However, his managerial debut arrived in 2018 when he was given the charge of Macclesfield Town. Under Campbell, they were successful in avoiding relegation. The club faced extreme financial troubles and in July 2019, the club and Campbell parted ways with mutual consent. Sol Campbell also played an assistant to Dennis Lawerence in 2017 after the Lawerence was appointed as the coach of Trinidad and Tobago national team.
---
How other premier league professional's view Sol Campbell …
Kevin Keegan said "Sol Campbell there, using his strength. And that is his strength. His strength."

Roger Lloyd-Pack said "The most starstruck I've been is when I met Sol Campbell when he was a Tottenham Hotspur player. I don't get starstruck by actors I work with, because you have some sort of relationship with them. Like, I worked with Tom Cruise [on Interview With The Vampire], so if I saw him again I'd speak to him as an actor. Although he might not be interested in talking to me."

Arsene Wenger said "Sol definitely knew before the last week [of his contract] that he was signing for us. At least, before that he promised to sign for us. I realised how significant it was when we played our first game at Tottenham. It was difficult for him but this man is not afraid of big decisions."

After the invincible season, Arsene Wenger said "Sol had become one of our main players, and we now had an absolute physical presence and stability at the back. He is monstrous and, with his full power and also his ability to score a goal, you have an outstanding player. With Jens Lehmann, Ashley Cole, Lauren, Toure, they were all winners."
---
What Sol Campbell says about Sol Campbell …
"I don't want to go too low that it's a struggle, and I don't want to go too low that I'm under someone and thinking 'what am I doing here?' I would rather be managing a club myself."

"If you're intelligent enough and a quick learner you will learn pretty soon, within two or three games, what the team needs, training-wise, to survive in that league, get better in that league, to get in the play-offs or even win the league."

"I always dreamed of winning the league at White Hart Lane, so I left and joined Arsenal."

"I became a recluse within my own house. I became insular because at home there was no space to grow or to evolve, everything was tight and there was no room to breathe. People don't realise how that affects you as a kid. I wasn't allowed to speak, so my expression was football."

"I enjoyed my spell at Portsmouth; it was like going back to a different time. Everyone was up against it, mucking in."

"When I put on the England shirt, I had a collection of thoughts. It was like going into battle, fighting for your team and your country. I would think that I'm playing against the best players in the world and would love that I could master them, control them and nullify them."
---
Sol Campbell trivia…
Did you know, Sol Campbell has never been transferred for a transfer fee. He has always switched teams on free transfer as a free agent.

Campbell is one of six English players who have scored in the Champions League final. Teddy Sheringham, Frank Lampard, Steven Gerrard, Wayne Rooney and Steve Macmanaman are the other five.

Campbell struggled with depression during his career at Arsenal which lead to a downfall in his footballing performances.

The Englishman runs a charity named "Kids go live" which allows underprivileged children to see live sporting events such as Wimbledon, Premier League and the Olympics. 
---
Sol Campbell Stats ( What you can find at wiki and other places )…
| | | | | | | | | | |
| --- | --- | --- | --- | --- | --- | --- | --- | --- | --- |
| Teams | Season | Age | Played | Started | Minutes | Goals | Assists | Yellow Cards | Red Cards |
| Newcastle United | 2010-2011 | 35 | 7 | 4 | 408 | 0 | 0 | 1 | 0 |
| Arsenal | 2009-2010 | 34 | 11 | 10 | 956 | 0 | 0 | 3 | 0 |
| Portsmouth | 2008-2009 | 33 | 32 | 32 | 2835 | 0 | 0 | 1 | 0 |
| Portsmouth | 2007-2008 | 32 | 31 | 31 | 2790 | 1 | 0 | 2 | 0 |
| Portsmouth | 2006-2007 | 31 | 32 | 32 | 2880 | 1 | 2 | 1 | 0 |
| Arsenal | 2005-2006 | 30 | 20 | 20 | 1754 | 2 | 2 | 1 | 0 |
| Arsenal | 2004-2005 | 29 | 16 | 16 | 1421 | 1 | 0 | 1 | 0 |
| Arsenal | 2003-2004 | 28 | 35 | 35 | 3085 | 1 | 0 | 2 | 1 |
| Arsenal | 2002-2003 | 27 | 33 | 33 | 2930 | 2 | 1 | 3 | 2 |
| Arsenal | 2001-2002 | 26 | 31 | 30 | 2624 | 2 | 0 | 2 | 0 |
| Tottenham Hotspur | 2000-2001 | 25 | 21 | 21 | 1890 | 2 | 0 | 1 | 0 |
| Tottenham Hotspur | 1999-2000 | 24 | 29 | 29 | 2530 | 0 | 3 | 6 | 0 |
| Tottenham Hotspur | 1998-1999 | 23 | 37 | 37 | 3330 | 6 | 0 | 0 | 0 |
| Tottenham Hotspur | 1997-1998 | 22 | 34 | 34 | 2938 | 0 | 2 | 5 | 0 |
| Tottenham Hotspur | 1996-1997 | 21 | 38 | 38 | 3403 | 0 | 3 | 2 | 0 |
| Tottenham Hotspur | 1995-1996 | 20 | 31 | 31 | 2624 | 1 | 3 | 2 | 0 |
| Tottenham Hotspur | 1994-1995 | 19 | 30 | 29 | 2453 | 0 | 1 | 0 | 1 |
| Tottenham Hotspur | 1993-1994 | 18 | 34 | 27 | 2461 | 0 | 1 | 1 | 0 |
---
Sol Campbell Recent Posts
---
Sol Campbell Tweets
---